Dining
A Foodie's Guide to the Top 5 Healthy Lunch Spots in the 'Burgh
By
|
A Foodie's Guide to the Top 5 Healthy Lunch Spots in the 'Burgh
My ultimate struggle is finding a balance between my love for food and my love for health/fitness. Anyone who knows me knows I am a health freak. I try to eat all whole foods, nothing packaged, no added sugar, etc. But, people also know that I am a foodie at heart. I have finally found a balance between eating healthy during the week and then treating myself on the weekends to all the yummy foods in Pitt. However, i have gotten myself in a pickle from time to time when I want to go out to eat during the week but don't want it to necessarily be a "treat." Never to be deterred, I have found a solution! Pittsburgh's health food scene. Yes, it is a thing, and it is booming lately. So many restaurants are serving up flavorful, yumtastical, healthy foods and I am here to share my top 5 picks for healthy lunch spots in the burgh. 1, 2, 3 peppermint treeeeee, here. we. go.
Number 5: Salud Juicery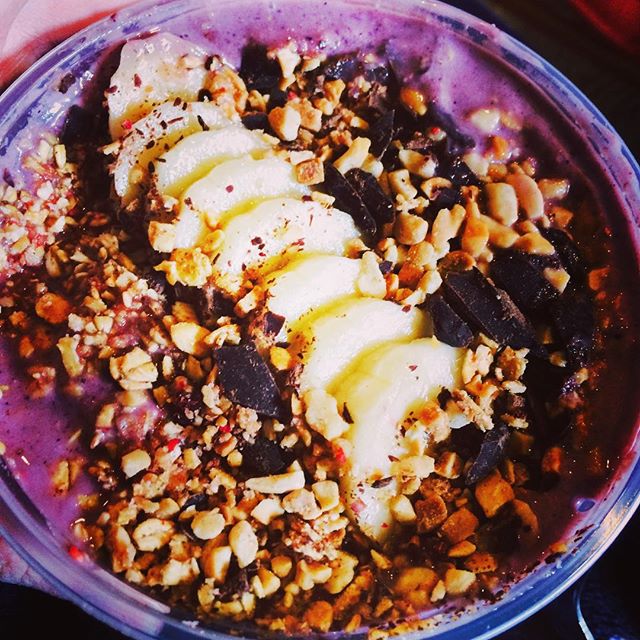 P-Bee Bowl: acai /blueberry /strawberry / banana / cashew / date / peanut / bee pollen / agave / granola / chocolate
Think sweet and creamy smoothies, fresh as can be juices, and just down right magical bowls of goodness. Salud Juicery is a great spot when you are a. in a hurry b. want something fresh and light and c. need something that you can consume on the go. My favorite pick has to be the P-Bee Bowl. It has a sweet acai base, topped off with crunchy, chocolaty, and sweet morsels of heaven. They are located in Sewickely and Shadyside. Def pop in and try them out.
Number 4: Harris Grill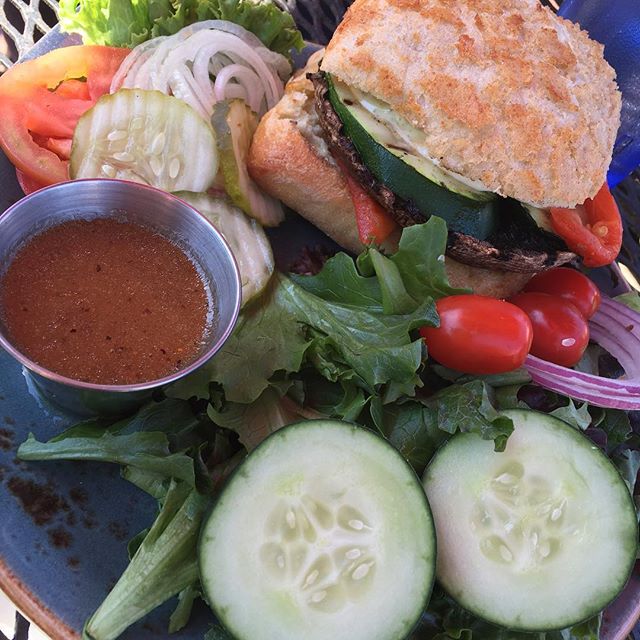 The Garden Weasel: Grilled zucchini and portobello topped with roasted red peppers/tomatoes/onion/fresh mozzarella cheese/basil pesto.
I know what you are thinking. Wait, isn't Harris Grill known for its bacon night? Yes, and you definitely need to try it. Bacon is LYFE. But I thought it was important to show that even restaurants that are known for a greasy delicious slice of pig can also have healthy options! The Garden Weasel was fresh as hell and loaded with veggies. You can make it even healthier by tossing the bun. Most restaurants nowadays have healthy items on their menu; you just have to take a closer look.
Number 3: Smallman Galley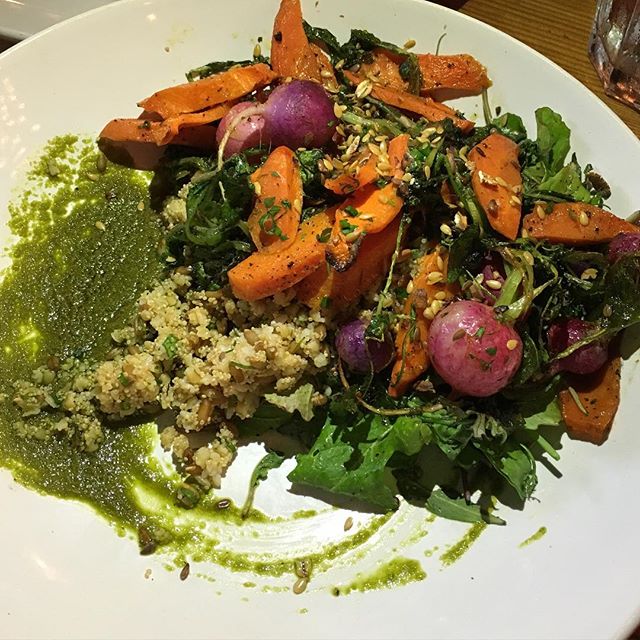 Carota Cafe-Root + Grain Salad: Kale/quiona/millet/bulgar/rye berry/roasted carrots & radish/sunflower seeds/herb vinaigrette
Carota Cafe, Aubergine Bistro, Provisions PGH, and Josephine's Toast combine to make the coolest concept restaurant hall/galley I ever did see. Choose from whatever restaurant/restaurants you please and eat away. All four of these restaurants had tons of healthy options, but Carota Cafe stole my heart. I love Carrots. For real, my sisters' nickname for me is Carrot. Carrots = Happiness. The Root +Grain Salad was just beyond what I could have imagined. So many veggies and grains, so much health. This salad has detoxing powers I tell ya. Whoever envisioned Smallman Galley is a genius.
Number 2: Amazing Café
Vegan Chili and the Roasted Butternut Squash Salad
Amazing Cafe is simply AMAZING. Everything on their menu is 100% pure health. Their menu changes from season to season, so you know you are getting the freshest ingredients. You can get anything from hearty vegan chili to a superb roasted butternut squash salad that is light and filling all at the same time. Now i know the word vegan can be daunting to you meat lovers out there. I am with you. I love myself a good slab of meat. But I will tell you what; Amazing Cafe could make me go vegan for  a few hours. I promise you won't even miss the meat when you are eating these dishes. They are EVERYTHANG and more! I also have a sweet spot in my heart for Amazing Cafe because they are a part of the Amazing Yoga Company, aka my favorite way to break a sweat.
P.S. if you are looking for a great teacher, check out Sean's classes! He da best.
NUMBAAAAA 1: B52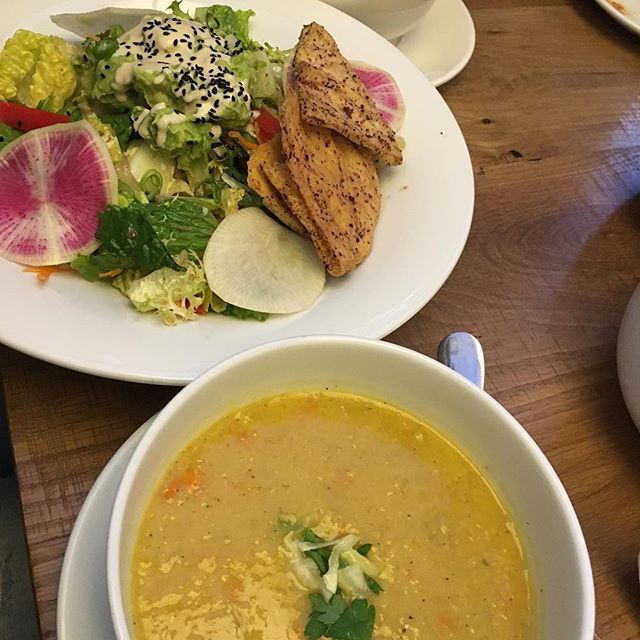 Avocado salad and lentil soup
Be still my beating heart. Oh B52, how I love thee. Everything about this place is pure perfection! If you are looking for straight up health with loads of cry tears of joy flavor, then look no further. B52 is throwing down in the health food ring and they are K.O. everyone in their path. The avocado salad is a creamy dream, the lentil soup made me feel like I was snuggled up in a warm blanket and do not even get me started on the baba ganoush! Like for real, the baba ganoush is my shit. They have the coolest added ingredients in salads, like the watermelon radish, tahini and sesame seeds in the avocado salad or the pickled turnip and Mediterranean slaw in the falafel salad. I could go on and on about this place forever but I digress. My top two recommendations first make sure you start off with the Mezze plate and pick some of dips they have (Favs: baba ganoush, fried tomato, fried cauliflower). And last, end your meal with a piece of homemade chocolate (Fav: sesame tahini ganache truffle). Chocolate is healthy right?
There ya have it! Our top 5 Healthy Lunch Spots in the Burgh!