Profiles
Monte Durham Say Yes to the Dress – Maniac Exclusive Q&A
By
|
Monte Durham Say Yes to the Dress – Maniac Exclusive Q&A

Hair perfectly coiffed and impeccably dressed, Monte Durham is a Southern gentleman, bridal fashion guru, and provider of wedding-saving-sass on TLC's Say Yes to the Dress:Atlanta. From bridezillas to nightmarish mother-in-laws, Monte Durham navigates the always entertaining world of bridal fashion with his infallible wit and keen eye for style. We sat down with Monte to get the full scoop on the upcoming season, and how it all came to be.
Maniac Magazine: How did you get involved with "Bridals by Lori," where the show, Say Yes to the Dress, Atlanta is set?
Monte Durham: I met Lori at bridal market in NYC and we just clicked! We have the same viewpoints, and believe in hard work and having fun. One day, she called and asked me to do a pilot with TLC and I thought she was totally insane, but of course, I did!
MM: Did you always have a particular love for bridal, or are you enthusiastic for all fashion?
MD: When I was younger, I always had bridal magazines. I would sit at the counters of department stores while my mother shopped, and would flip through pattern books that I found to be very fascinating. I was always intrigued with bridal.
MM: You have mentioned Jacqueline Kennedy Onassis as one of your personal style icons; what makes her special to you?
MD: Jackie O was elegant, quiet and understated; never overdressed and never underdressed. She was poised and extremely gracious.
MM: If Jackie O was getting married today, and you could be her stylist, how would you dress her?
MD: Oh my God, I would die! She wore a lot of Givenchy, Chanel and Carolina Herrera. I see her in a classic jewel neckline, fitted waist, duchess satin, with a small train. Of course she would have her signature pillbox hat, pearls and white kid gloves.
MM: Would you "Jack her up" like you do with the brides on the show?
MD: Honey, I would blow her out and give her the bob from hell! I am thinking big, huge, full hair.
MM: You have been to Pittsburgh several times. What keeps you coming back?
MD: A few years back, I got a call out of the blue from Wedding Clickers asking me to come and do a meet and greet with their brides. I did my first bridal show and was treated like royalty. The vendors were amazing, the arenas were top notch – just an incredible experience for anyone planning a wedding, anniversary party, baby shower, corporate event, etcetera. It was a fabulous experience, and I have been back for five shows and counting.
MM: What trends do you see in Pittsburgh that you may not see in other parts of the country?
MD: I see a lot of girls here that are rooted in tradition trying to be more modern. They want to uphold family traditions, with a twist of modern sass. Oh, I also love all of those yellow bridges! I can run across one, and back across another. Really though, I love the ease of the city and all of the history here.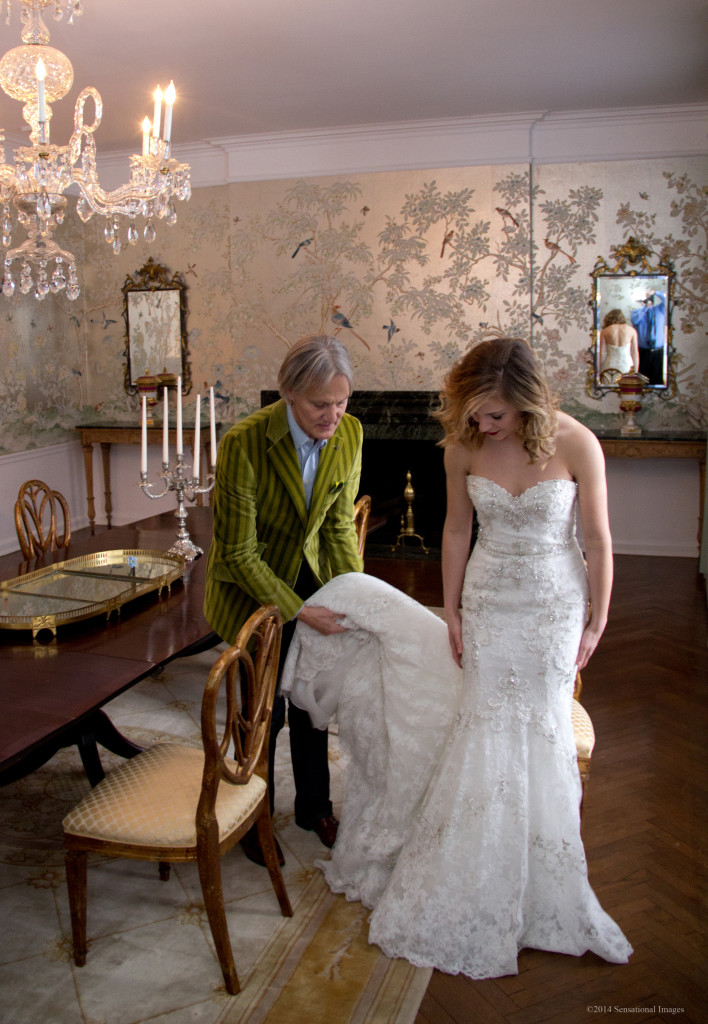 MM: When someone gets engaged and begins to look at gowns, how can they keep themselves from becoming overwhelmed by all of the choices?
MD: I tell them to use the 3 F's: Fit, Fashion and Fabric. For the fit, you must think about your body type. What silhouette will flatter your figure? What style do you like? There are many fabrics to choose from: duchess satin, organza, lace, etc. Educate yourself and then try to narrow it down before you make your first appointment.
MM: When a bride loves a dress, but her friends and family do not, what do you recommend she should do?
MD: Stay true to yourself. Buy the dress you love. Get married in the dress you love. Never go down the aisle in the wrong dress.
MM: Lastly, what is the craziest thing that has happened on the show, or the most outrageous bride you have had?
MD: There are so many to choose from, but I'd have to say Nikki Johnson and her five sisters whose names all begin with "N!" None of the girls had gotten married- she was the first. She was bound and determined to break the curse, and she did. She got the dress she loved and is so happy. But the show is packed with crazy moments! This season, we have Naomi Judd and a famous fashion model, so stay tuned!
For eight seasons and five years, Say Yes to the Dress, Atlanta has entertained us with an inside look at bridal mayhem and hijinks. Join Monte and friends for season nine on Friday nights, beginning at 10:00 on TLC. For more information, check him out at www.montedurham.com. 
Photos by Daniel Riggs