Cover Stories
Rachel Brosnahan Cover Story for Maniac Magazine
By
|
Girl Out Of The Box: Rachel Brosnahan Cover for Maniac Magazine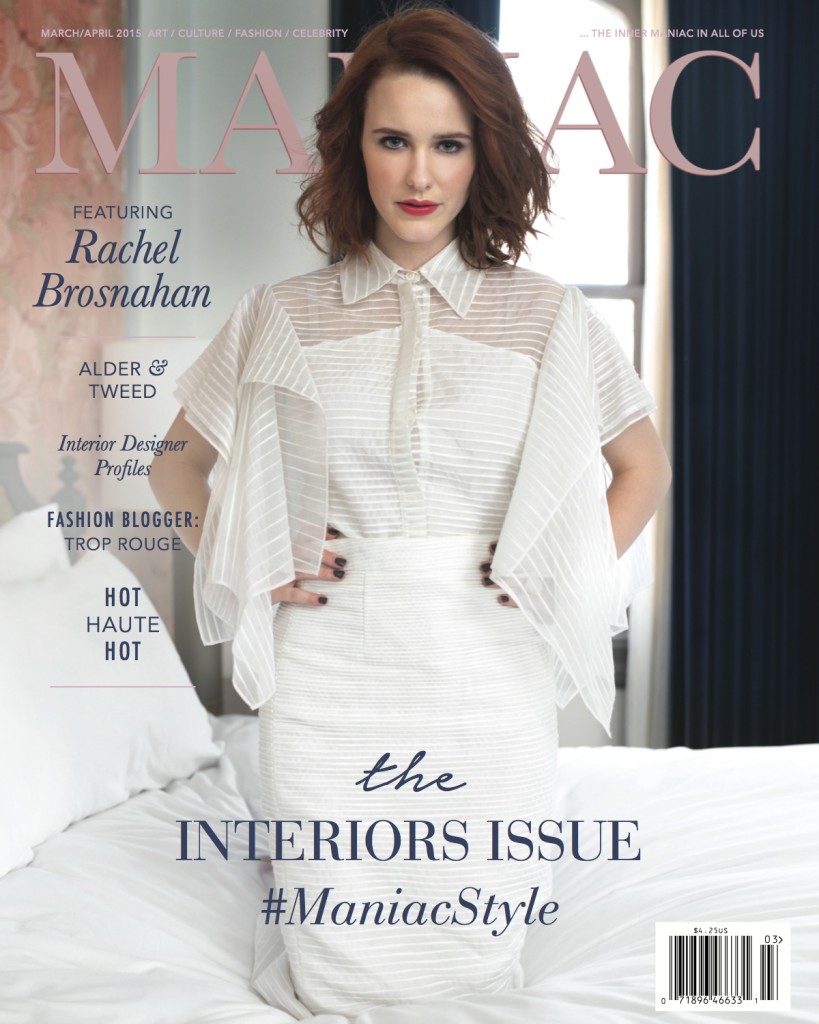 The brightest color in the room is actress Rachel Brosnahan's red hair, made all the more vibrant against her pale pink raincoat. Outside the window of the High Line Hotel, New York City provides a moving concrete backdrop. She is comfortable with its steeliness and warms to its charm with a playful glance.
"I love New York. The energy in the city is unlike anywhere else I have ever been," Rachel confides.
"I feel rejuvenated by that energy. I couldn't live anywhere else. You walk out your door, whether you have a thousand layers on or not, there is that moment of breathing in New York and entering this flow of people trying to get shit done."
She possesses a duality, which has turned out to be her secret weapon, brandishing a lynchpin of talent when you thought she was just a pretty face.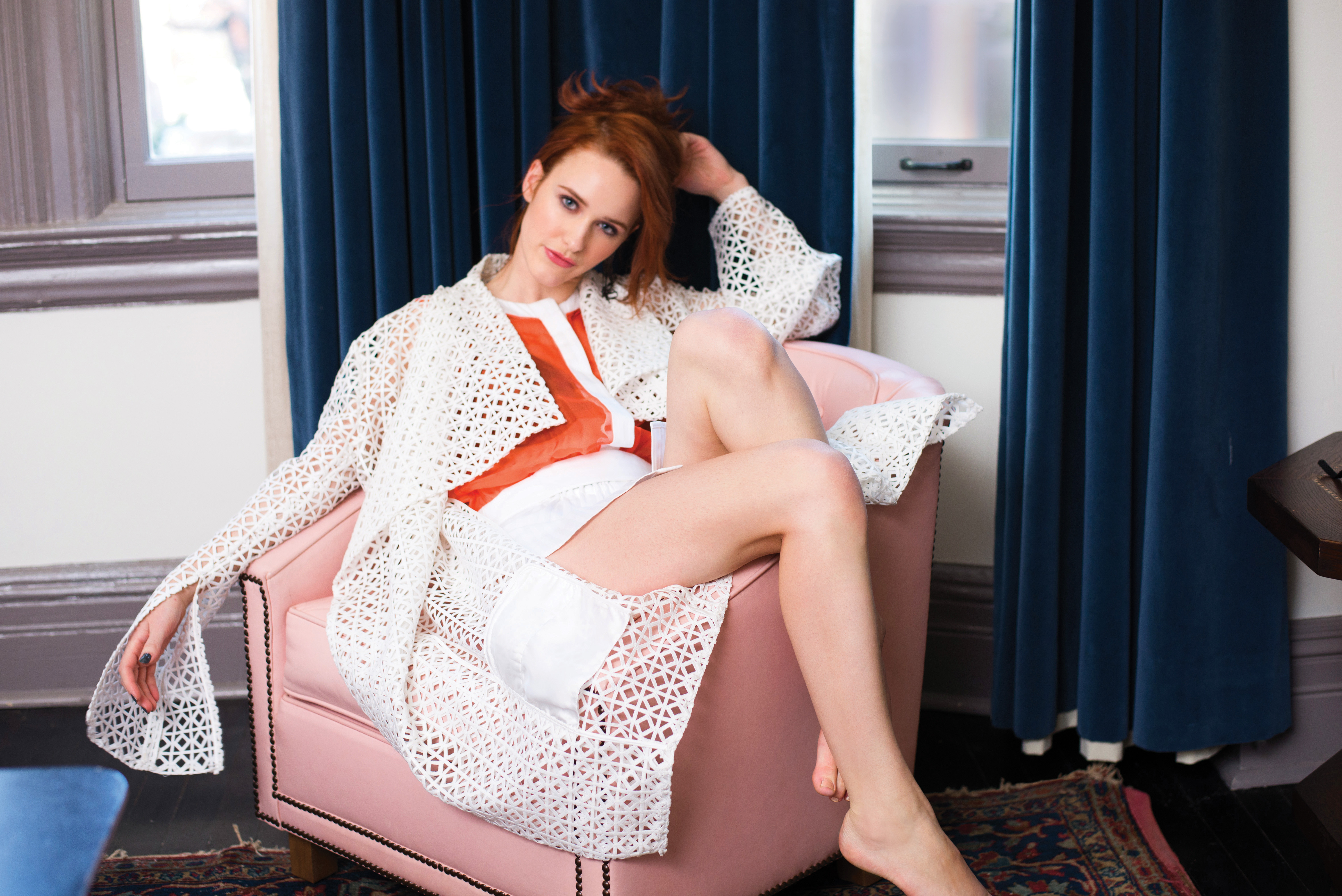 Rachel doesn't just lean in to the camera with a supermodel's blank stare, but rather she takes each flash as a moment to try on different emotions. Whether excited at the stylist's puppy padding into the shot, or pointing her 'fuck you' finger at the camera, there is a secret storyline behind her brilliant blue eyes.
"I really love when Rachel is just being herself in clothes because she is such a New Yorker in the way she dresses," remarks Josh Liebman, Rachel's stylist. "She prefers comfort, but we are working on the heels. It's a struggle."
Although designers Christian Siriano, Zac Posen, Erin Fetherston, and the new label of Harare are behind her unique style of juxtaposing lace with edgy pieces, she looks just as chic when rocking a pair of sensible Aerosole flats.
Much like her character on the Netflix series House of Cards, Rachel has transformed from the peripheries of a subplot into the full focus. First Rachel's character was just a call girl, a patsy in a dangerous game. But before the audience's eyes, she quickly evolved into a person with layers of rich inner story.
"The role was so far from what I knew I could do or wanted to do," reflects Rachel. "It felt like I was putting something on. I have picked up a lot from Rachel from attempting to find a way into that character, I can relate to her now, but in the beginning it felt like the furthest thing from me."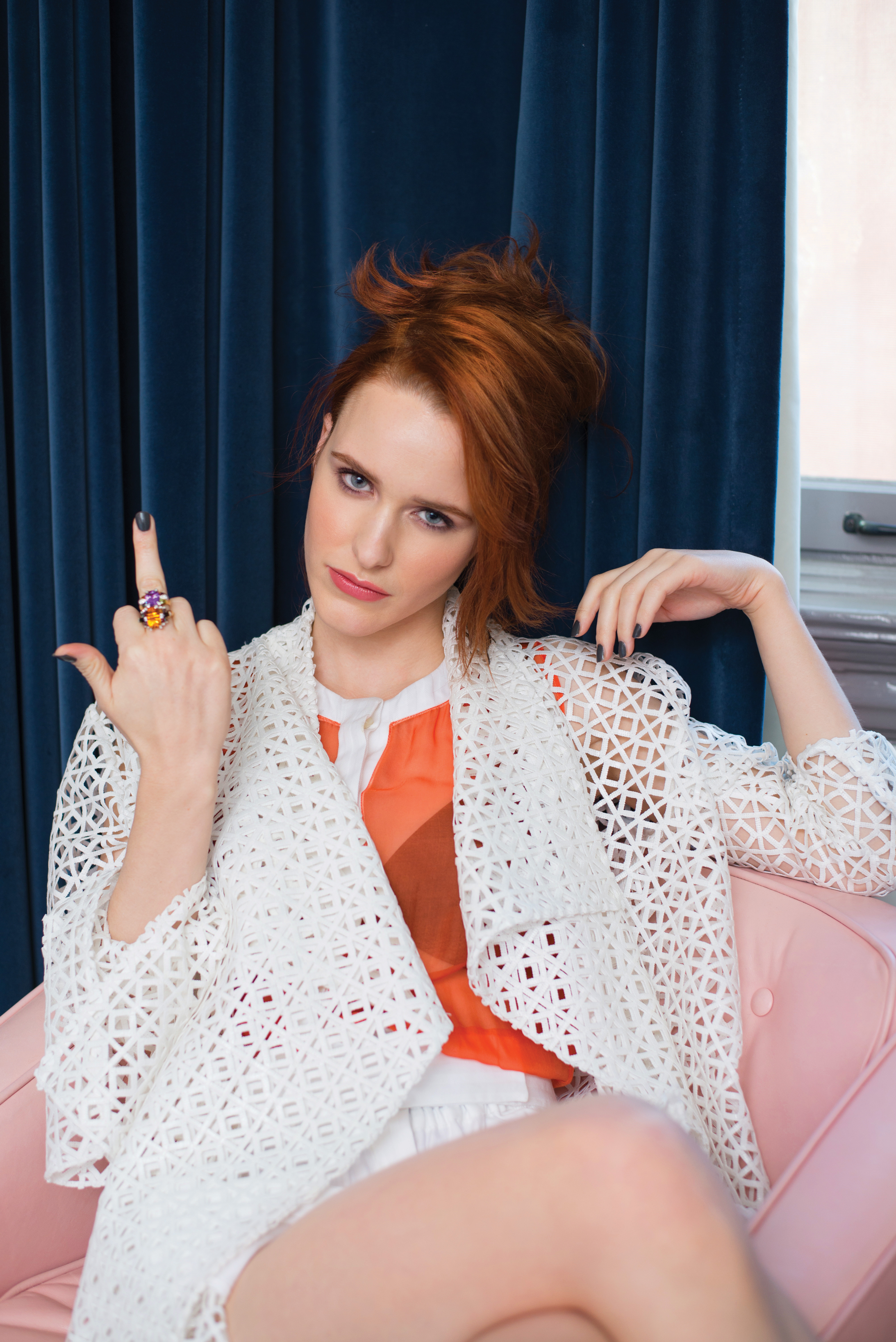 An example of the evolution of the Rachel's character, and of Rachel's acting abilities, takes place in the first season of House of Cards when Rachel seduces an alcoholic politician and then later encourages him to drink, she makes what could have been a flat, malevolent character into an iconic, and witty temptress. Naturally, he fell off the wagon, leading to his demise.
]"I thought I was reaching so far, it was a relief that people bought it," explains Rachel. "I grew up with Rachel. She was my first job post-college so I was learning a lot playing that role." In the episodes that followed, Rachel's character was given more depth, defying expectations by becoming one of the most relatable women in the series.
Few of her onscreen characters are ever what they seem. A hallmark of her talent is that in an instant she captures the audience by revealing another more complex layer of her character. She plays Jolene Parker in the NBC television series The Blacklist, who is first an innocent grade school teacher. But with a twitch of her facial expressions, she begins to reveal herself as an associate to the show's arching villain.
However, by no means is Rachel's talent limited to playing the conniving villainess. There is always an unguarded aspect of her performances where the character becomes three dimensional, more vulnerable than at first glance. For instance, in her steamy House of Cards scene with lover Lisa, played by Kate Lyn Sheil, the audience sees the honesty in their love making, whereas before she only used the act of sex as leverage.
Despite it being undeniably uncomfortable to shoot, Rachel had no qualms about being nude, saying, "It's easy when it's such an important scene in the script. It wasn't gratuitous. Kate is great. We get along super well. You just have to commit to it. It's always kind of weird I guess. You have to laugh a lot, but it's easy when it feels like it is a necessary part of the story telling."
Perhaps an even more difficult place to get to emotionally is one of devastation. One of her toughest scenes – both for her to perform, and for the audience to watch – was the emotional break-up with Lisa. Rachel credits her ability to reach and maintain such intensity in her scenes to the mentors at New York University and the acclaimed Lee Strasberg Theater and Film Institute, particularly teacher Lola Cohen.
"I felt she personally pushed me in a way I never knew I could go. I thought it was unnecessary and pointless," recalls Rachel about her teacher. Then House of Cards happened, and she was holding a knife to her antagonist Doug Stamper, played by Michael Kelly. "To keep the emotional level at 1000 for the four or five hours we shot the scene was one of the hardest things I had to do…and suddenly I got it. She was pushing us to the limit to see how far we would go and then maintain it."
Her preparation for becoming the great actress she is, unsurprisingly came from being involved in theater in high school. Perhaps somewhat more unexpected was that she credits some of her talent to her time on her school's wrestling team.
"Wrestling is a lot like acting, like improv. It's about reading other people, reading their body, anticipating their next move and responding quickly in the moment," she says gesturing with her hands to reinforce her point. "It feels good to be that strong; it's something primal and satisfying to get someone in a hold and pin them down."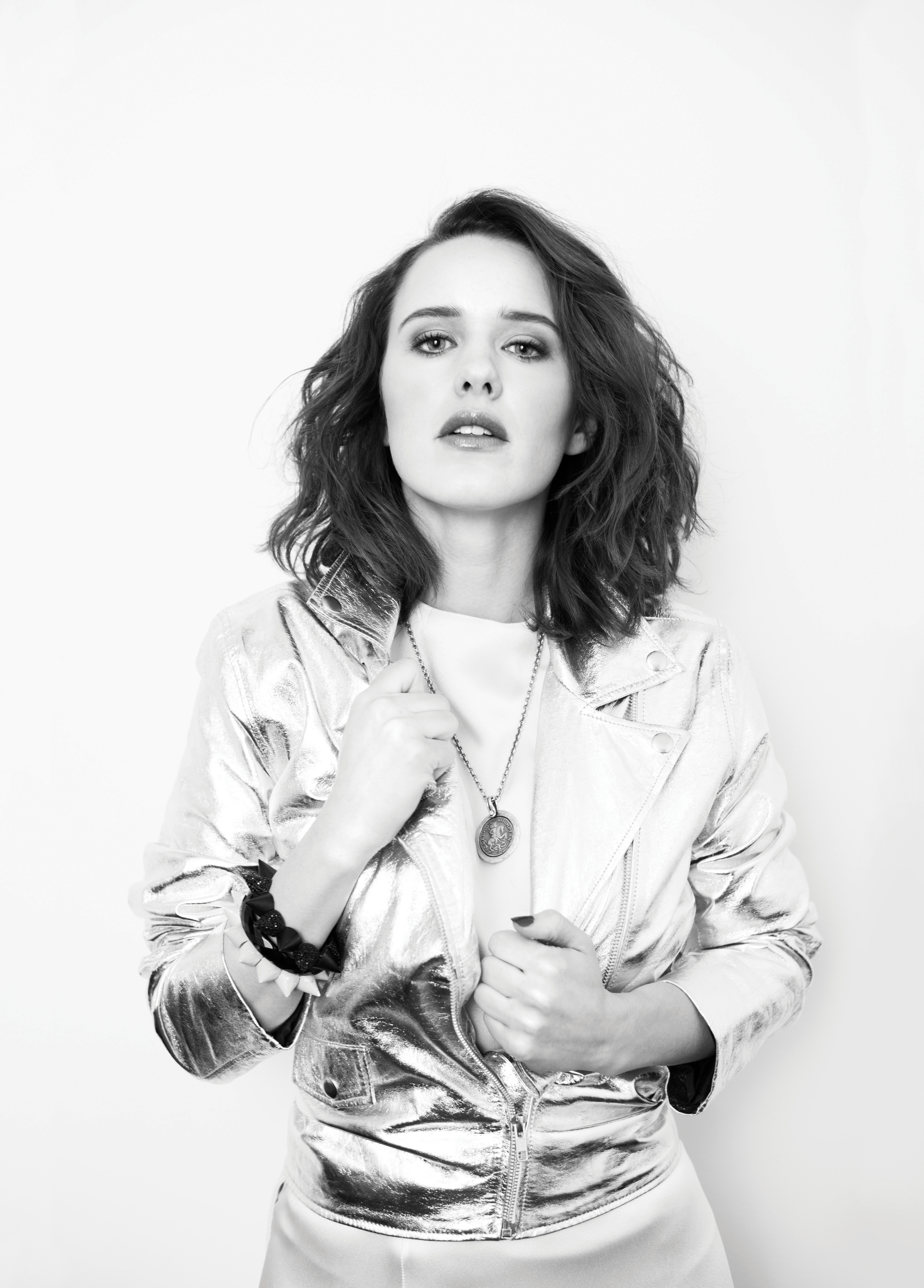 However, she quickly reminds us of how she truly sees herself; a star struck geek. She recently attended the SAG awards with her boyfriend. She won't reveal who he is, but it's easy to guess when you share dogs with a handsome gent. We won't tell you who we think it is, but regardless Maniac sends our love to her sweet pooches Nikki and Winston!
"It's all about how you feel about yourself. I always feel like such a dork. It's that weird thing where you get to peek behind the curtains," she says of meeting many of the people she admires at the awards event. "It feels like you are doing the work and all of the other stuff is a strange other part of it that you don't see on TV."
She humbles herself even further, telling us that her 16-year-old sister "thinks I'm a loser!" Funnily enough, Rachel agrees, saying that her sister is in fact the way cooler of, and is proud of both of her younger siblings, and talks effusively about how accomplished her parents are.
Being close to her family seems to have grounded Rachel in a way that's rare amongst the shooting stars in Hollywood. However, growing up as a dual citizen to an English mother seems to have given her a kind of fearless curiosity of the world around her as well; which makes sense when you consider acting is a profession that demands one be especially curious and fascinated by other people.
Her aunt is the designer Kate Spade; so naturally she also possesses one hell of an epic wardrobe. Combining this fact with what we already know about this passionate, talented gal, we're starting to believe she's superhuman. When asked about her favorite piece from Auntie Kate, she describes an accessory combination that our dreams are made of, "I have this incredible pair of kelly green suede shoes from years ago with a green crystal buckle. I love them!" We can only imagine why!
She goes on about another piece she is in love with – a Sandro dress, "I love lace with an edge. It's very sleek, but girly. I love something with a little whimsy—a vintage feel, but then throw some combat boots on to edge it up."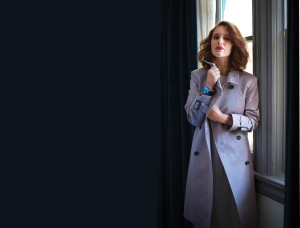 Inspired by intrigue and sensibility in her own fashion sense, Rachel can maintain elegance with a steely twist. Every girl, regardless of her wardrobe, is many things at once. In her work, Rachel often inhabits the duality that many women live in every day, being both vulnerable and strong.
In November 2014, Rachel worked on an HBO mini-series called Olive Kitteridge, which was based on a Pulitzer Prize-winning collection of short stories revolved around the town of Crosby, Maine. It was there where she worked with one of her heroes, actress Frances McDormand.
"Everything I imagined about her is completely true. She is one of the most bad-ass women I have ever met. She knows how important it is for women to see themselves on screen, to see every different kind of smile they ever had on their faces."
Rachel is equally inspired by fantasy as she is by reality, something founded in her childhood through literature. When flying back and forth from England she would take a carry-on filled with books. At night she would listen to stories being read to her, closing her eyes to imagine the characters.
"I loved the Harry Potter series and the Chronicles of Narnia, books with these big worlds that were beyond anything we could experience," she recalls, talking excitedly about her obsession with reading. "That for me was what made me want to become an actor. It was something I enjoyed thinking about…Even though I wasn't actively doing anything, it felt like I was playing by just letting my imagination run wild."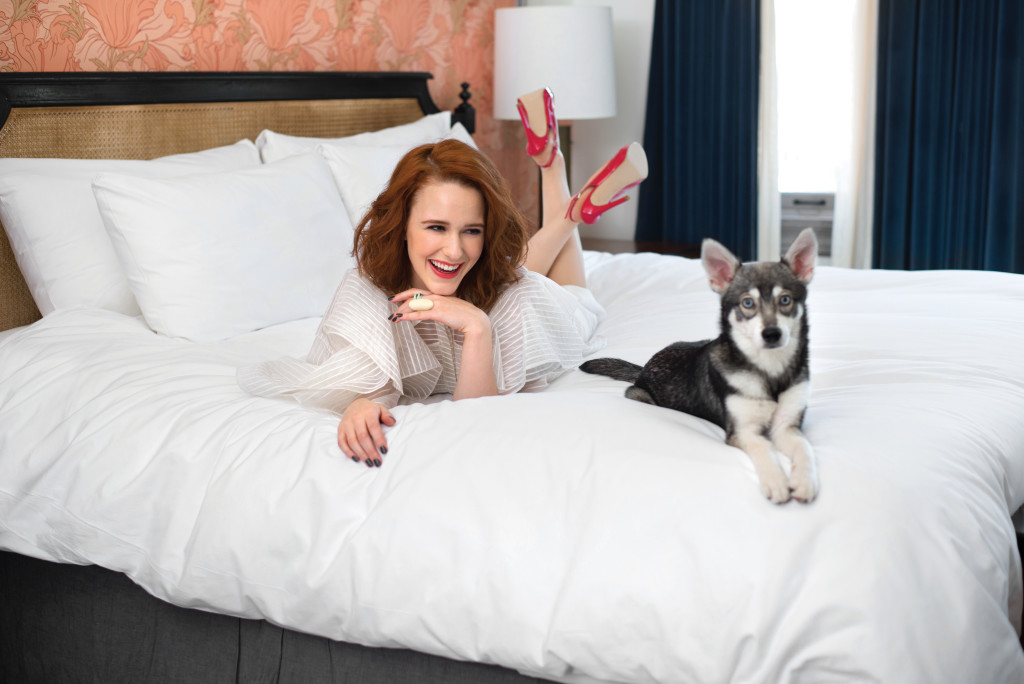 It appears that active imagination has served her well in her career. After we find out what happens to Rachel Posner in House of Cards in February, we will see her in the historically based mini-series The Dovekeepers, and then with Jesse Eisenberg in the movie Louder than Bombs. She begins the shooting of the second season of Manhattan in April 2015.
She reflects on some of her work and sighs, "It was a dream come true. I have said that a lot this year, but it's true, every word of it."
The true talent of Rachel might be that she can slip inside a moment and try on its possibilities, give you a full range of emotion until one locks in place and speaks to the camera. She is an open book and a secret keeper, a girl out of the box.
Watch the behind the scenes footage at our cover shoot with Rachel here! 
By Sarah Lolley
Photography by April Hubal
Styled by Joshua Liebman
Stylist Assistant: Martin Hamery
Hair by Derick Monroe
Makeup by Timothy Mackay
Lighting by Jeremy Nelson
Shot on location at The High Line Hotel in NYC