Fashion
Blogger of the Week: Lauren of Wellesley and King
By
|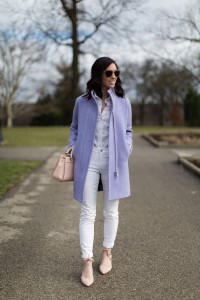 Meet Lauren, the classy and chic blogger behind Wellesley and King (and a new personal favorite)! She's a Pittsburgh-transplant that has taken her blog off with effortless style and grace. With a blog dedicated to style inspiration for real girls with real budgets, her posts are not only relatable, but also filled to the brim with helpful tips and inspiration. 
How long have you been blogging, and what made you want to start?
I began consistently posting about eight months ago, but was blogging off and on starting in 2014. I started my blog after a friend of mine had introduced me to fashion and lifestyle blogs. Growing up, I was constantly doodling outfits and styling my Barbies, so blogging seemed like the adult version of a childhood hobby.
At the time I started my blog, I had just finished grad school and moved to Pittsburgh to start a new job in logistics. As a recent graduate transitioning to a full-time job, I no longer had the creative outlets that I did during my time in school (I danced during college and worked as a visual merchandiser for a nearby boutique on the side). Blogging became a way to fill the creative void in my life.
It also presented me with a new set of challenges. I have been amazed at how much I've learned through blogging (i.e. photography, graphic design, business techniques, marketing, networking, working with brands,…the list goes on). Blogging has also been very fulfilling in that regard; it constantly drives me to learn new skills and put them into practice.
Where do you find inspiration for your posts and overall style?
I find post inspiration all around. I listen to a lot of podcasts during my commutes to work (some of my favorites are Let's Discuss, Tea & Tattle, Unstyled, and Millenial), and I often find myself thinking of post ideas as I'm driving. I am also an avid follower of other fashion and lifestyle blogs and find inspiration in women who are great at balancing life, style, and well-being.
I admire classic fashion icons like Audrey Hepburn, Jackie Onassis and, in modern times, Kate Middleton, and this translates to my own outfits. I am a huge proponent of curating a wardrobe that transcends time, one in which you will always look polished and ladylike.
Describe your style in one sentence:
Simply put, my style is classic and feminine. Most of my outfits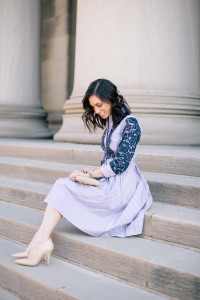 contain traditional silhouettes, like tailored trousers or A-line dresses, with a little something extra to add a feminine touch. I gravitate to anything with ruffles, bows, and lace.
As I grow, my personal style is becoming more and more solidified. When I first started blogging, I wasn't totally sure what my style was, and so Wellesley & King essentially became an online journal of that discovery. Over the last year I've been focusing on honing my personal style, which has led to a more consistent and intentional wardrobe.
I certainly don't consider my wardrobe to be trend-setting by any means. Rather, it's a style that any woman could wear in her everyday life. All of the outfits that I feature on Wellesley & King are outfits that I have worn or would wear either to work or on the weekends. It's a style for real women with real lives.
What are some staple items in your closet?
I don't know what I would do without a great pair of jeans. If there's one item worth investing in, it's a pair of jeans that makes you feel amazing. Jeans are also the most-worn item in my closet, so they need to be well-made in order to stand up to constant wear. Right now, I rotate between a pair of distressed Current/Elliott stiletto jeans, and a pair of white Madewell Skinny Skinny jeans.
In addition to that, I really appreciate a quality handbag, a pair of nude pumps (I wear mine almost daily for work), and a well-fitting dress. I wear a lot of dresses for work; it's the article of clothing that makes me feel the most strong and confident. I'm really shy, so I need that extra boost!
Do you have any advice for those thinking about starting their own blog?
Start a blog because you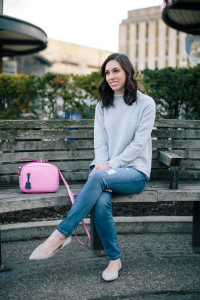 love it, not because you want to make money or become "famous." Understand that–like anything in life–success is followed by a lot of hard work, and having a successful blog will be a lot of work. As long as you're doing it because you enjoy it, it will be a labor of love.
Starting a blog and growing your following takes years, especially if you're doing it organically. Many people have the false idea that blogging, especially fashion blogging, means taking a few pictures of your outfits, throwing a post together and hitting publish. In reality, though, bloggers wear so many hats. Many of us are running a business, which means that, in addition to writing posts, we're working with brands, tracking expenses, paying taxes, brainstorming new and original content, analyzing statistics, editing photos, creating graphics, scheduling social media… there's always something to do or learn. I can spend over 20 hours a week working on my blog, and that's in addition to working full-time.
For me, despite the many hours I put into Wellesley & King, it has been incredibly fulfilling. When I started this blog, I never imagined how many skills I would learn or friends I would make, and I certainly did not expect it to help me grow so much as a person. I'm constantly pushed outside of my comfort zone, and feel myself becoming stronger and more independent all the time. I absolutely love having this creative outlet; it would be hard to imagine life without it!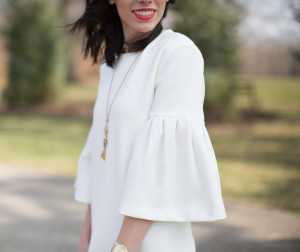 What are you most looking forward to in regards to the upcoming spring season?
A lot of last year's trends are continuing into this year, and even becoming a bit more dramatic. As someone who fully enjoys overly girly details, the one-shoulder ruffle tops, bell sleeves and florals are trends I am most certainly looking forward to for spring and into summer. I think 90% of my spring wardrobe is comprised of bell-sleeve tops and dresses.
How do you like living in Pittsburgh? Do you see yourself ever leaving?
Pittsburgh is a great place to live. After growing up in a small rural town, it feels like there's so much to do and see here. There's always something going on, be it a new restaurant opening, or an exhibit at the museum, or a comedy show. I never feel bored. I also love the small-town feeling that Pittsburgh offers, despite being a city. People are very friendly here, and there's a real sense of community. It's tough to say whether or not life might lead me somewhere else in the future, but I do know that I absolutely love living here right now.
Who are some of your favorite bloggers or Instagram accounts to follow?
I love to follow people that inspire me creatively, so for me, my favorite accounts are @allthatisshe, @maraferriera, @mirandasnotebook, @glitterguide, and Pittsburgh's very own @sawissinger. I'm also an avid follower of @galmeetsglam and @blaireadie who, of course, have the most enviable styles of just about anyone on the planet.
Finally, what is your most Maniac moment?
My most Maniac moment was when one of my favorite bloggers, Monica, of the blog The Elgin Avenue, provided some blogging advice on how to manage blogging with a full-time job. It's amazing to be part of a community where so many women encourage and support one another! It's becoming ever more important to me to maintain that positivity on my blog, and in my life. I'm a huge believer in surrounding yourself with people who make your life better, and blogging is full of women who do just that!