Fashion
Blogger of the Week: Erin Bachman of Caffeine & Cuddles
By
|
BLOGGER OF THE WEEK: ERIN BACHMAN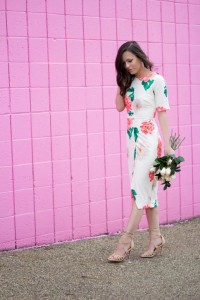 Who says you can't love what you do?  Pittsburgh native, Erin Bachman is living proof that she enjoys exactly what she is doing in her life.  Being a stay-at-home mom takes up most of her day, but she doesn't let that stop her from enjoying one of her favorite past times, writing.  Whether her inspiration is her son, a new recipe, the latest fashion, or really anything, she always gives her readers something to look forward to on her website, Caffeine and Cuddles.  Check out what Erin, our blogger of the week, had to say about her life and her blog!
Maniac Magazine: How and when did you start blogging?
Erin Bachman: I originally started blogging during the summer of 2015 but never took it seriously.  It was something I did when I had free time and my heart wasn't fully in it yet so that site never took off.  It wasn't until April 2016 that I took a leap of faith and started blogging full time so I'm actually coming up on my first "blog-iversary"!  I started blogging because I loved reading other blogs.  I read a few mommy blogs religiously when I was pregnant and they impacted me in such a huge way that it inspired me to start sharing my own story.  I thought, "if I can help just one other woman feel like she's not alone in this, I've done my job".  Since then, my blog has evolved from strictly a mommy blog to more of a lifestyle blog but my goal definitely remains the same.
MM: What does your typical day look like? As a mom and a blogger?
EB: I work from home while raising my two year old so it gets pretty crazy.
I usually wake up an hour or two before my son gets up and I work on any posts that have deadlines coming up.  Once he's awake I'll make breakfast and answer emails while he eats and plays independently.  I usually "unplug" for a few hours to play with him then once he's down for a nap I'll go back to work.  This will include anything from photo shoots to editing posts to managing my social media. I spend the evening focusing on being a mom but once my son's asleep I'll work for a few more hours.
MM: Have you lived in Pittsburgh your whole life? 
EB: I was born and raised in Pittsburgh.  I love this city!
MM: What is your favorite thing to do when you get some time to yourself?
EB: Relax!  I'll usually go get my nails done or have a spa day… something that forces me to put my phone down and totally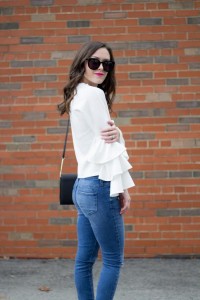 shut my mind off.
MM: Who are some of your favorite bloggers?
EB: I'm mildly obsessed with Amber Fillerup Clark from Barefoot Blonde.  I totally want her life!  She's definitely #goals.  I also love following Destiny Thompson from Truly Destiny and Melissa Cole from Ella Brooks Blog for fashion/mom life inspiration.
MM: How would you describe your personal style?
EB: This is tough!  I typically go for a classic feminine look with a bit of an edge.  I've been loving anything pale pink and ruffles lately but I'll usually pair it with a moto jacket or boots for a bit of an edge.
MM: Is there any advice you can give to aspiring bloggers?
EB: Three things:
Don't compare yourself to seasoned bloggers. It's easy to see someone's perfectly curated Instagram feed and their thousands of followers and feel like you're not good enough but don't forget that they started somewhere too. Try not to compare yourself to someone that's been in the game for years!
Don't expect success overnight. Blogging is hard work (I work at least 60 hours a week!).  You're not going to hit post one time and wake up the next day to 50,000 page views.  Just work hard and be patient.
Be true to yourself and don't lose sight of why you started blogging.  I've seen a lot of people start amazing blogs but get caught up in landing sponsored posts.  Sure, working with brands and monetizing your blog is great but chances are that's not the reason you started your blog.  When you focus on the real reason you started blogging and focus on creating great content, the rest will come!
MM: What is your most "maniac" moment?
EB: My life is one big maniac moment haha!  But I especially have a lot of maniac moments when I overbook myself and have a bunch of deadlines approaching so I'm trying to get that done all while raising a two-year-old. It's pure chaos but I wouldn't change a thing!