Art
Welcome to Library Collaborative
By
|
As Pittsburgh cultivates a name for itself as a leader in culture and creativity, multi-media recording studio Library Collaborative is busy positioning themselves as one of the dopest spots in the city for local musicians and creatives alike. Located south of downtown Pittsburgh on Library Road, Lib.Co is welcoming artists of all disciplines ready to grow and expand their skillset, as well as collaborate and record. Founded by Shane "Sugga" Johnson and Matt Seibel in 2015, the studio has been operating at their current capacity since October 2016, and will be holding their official grand opening come September. Library Collaborative, just like their name, boasts a collaborative spirit and is always looking for passionate people to support, grow with, and provide a means of getting art and creativity out into the universe.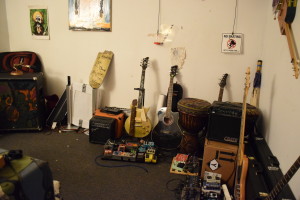 Upon arriving at the low-key studio, just on the other side of the Liberty Tubes, from the moment you step in, you are immersed in colorful mural work by their own creative director, Dakarai Akil. Every room in the building has a purpose, including a live room, three studio rooms, an isolation booth, and a green room; the offices and recording areas are each filled with art and books for resident artists to gain inspiration through their own personal knowledge expansion. They even have an in-house tee shirt hustle ran by their own head of marketing and promotions, Chanice Lazarre.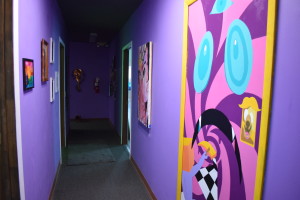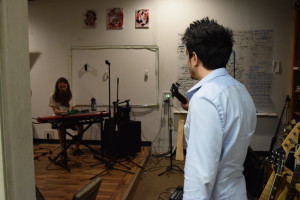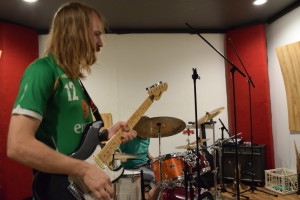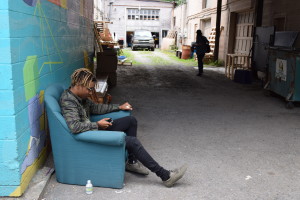 Current occupants, (described by co-founder Seibel as a "rag-tag bunch of artists and musicians") who are as eclectic as the wall space are Tremoravia, NVSV (pronounced "NASA"), L K Hae, Juice, Smtatoe, and Epicycles. With summer in full swing, these talented artists have much going on including shows, recordings, tours, collaborations, and even album releases. Look up any one of them on Instagram, at any time they are posting photos and videos or updating their stories about current projects; they eat, sleep, and breathe music. If you are a musician of any discipline in the Pittsburgh area looking to collaborate with the dopest, take a drive out to Library Collaborative. Through the summer they are offering a recording deal of two songs, mix and mastered, plus two hours for $150. If you're not quite ready to record an album, then be sure to check out these gifted artists at any of their upcoming July events.
July 7– Juice album release, "Punch"
July 14– Juice, NVSV, and LK Hae at the Bushnell
July 20– LK Hae and Tremoravia at the Smiling Moose
July 28– Juice and NVSV at Flow Lounge
*July 22– Studio soft opening cookout
*September 22– Studio Grand Opening