Music
Take Ten with Nightly
By
|
Take Ten with Nightly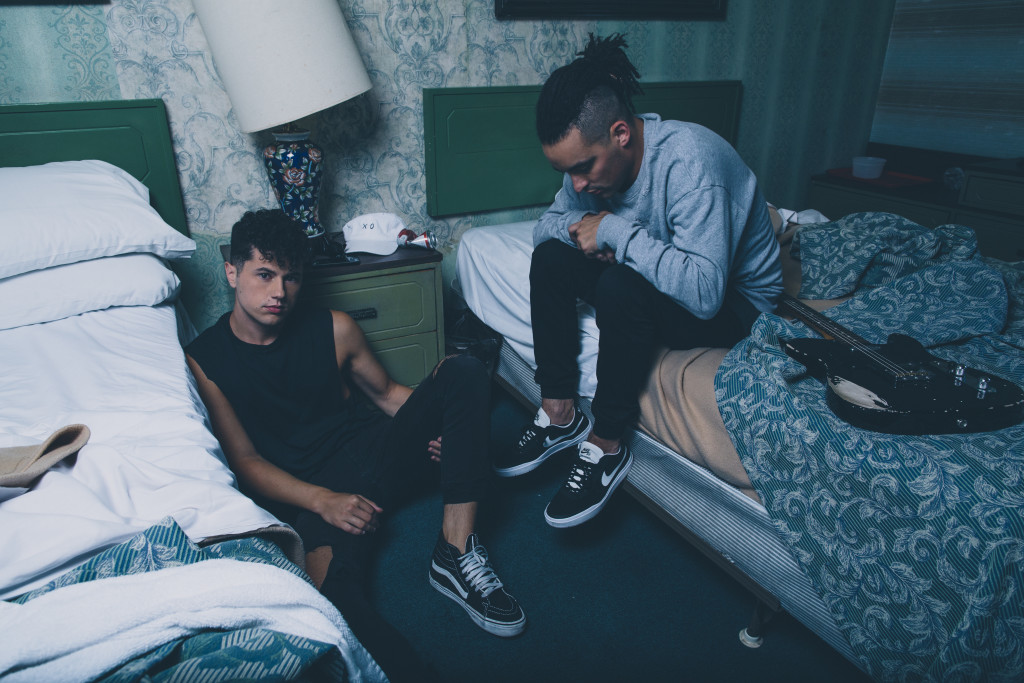 Talent runs in the family for the members of alt-pop group Nightly!  Cousins Jonathan Capeci and Joey Beretta ooze cool factor and their music is the lyrical equal.  The boys are currently on tour with Saint Mesa and we got the chance to speak with Jonathan ahead of their show at Spirit in Pittsburgh last night!
Maniac Magazine: I know that Nightly is a pretty new venture for you guys.  How did all of this come about?
Jonathan Capeci: Joey and I are cousins, and we've always known that we wanted to be in a band together one day.
MM: As of right now, XO has nearly 5 million streams on Spotify.  It's definitely a sick track, but were you expecting it to blow up like that?
JC: It's crazy. We had no idea. Honestly, when we put it out we were hoping for 100,000 streams and we thought that was gonna be tough. It's so cool to see people connect to the music.
MM: How does what you're doing now differ from Dinner and a Suit?
JC: We were in that band for a long time and one of the founding members left. After that it didn't feel right to carry on as DAAS. Nightly is Joey and I's band through and through – more refined and pure.
MM: Where/who do you draw musical inspiration from?
JC: We have always loved bands. The Killers, Coldplay, U2. We'd love to be a band that contributes to pop music/culture. I think the world needs that.
MM: Can you describe your writing process for us?
JC: It's a little different each time, but generally either Joey will start with a guitar riff and we'll build off that, or I'll come in with a lyric idea and we'll start there. We both have little laptop studio setups so we can fully flesh out the ideas.
MM: How has tour been treating you?
JC: It just started, but it's been good so far! We're playing a lot of places we've never been before, so we're honestly surprised that people know the songs!
MM: What are you looking forward to in Pittsburgh? We're stoked to see you guys play!
JC: Pittsburgh is one of our favorite cities. I love coming in through the tunnel and seeing the city and all the yellow bridges. Also, one of our favorite restaurants in the country is here, Enrico's!
MM: What's your favorite song to perform live?
JC: Probably different for each of us. I like playing a song called 'honest' because of the energy. But most people know 'xo' so it's really cool to see people sing along to that one.
MM: What can fans expect from you in the future?
JC: We're shooting more videos, and have more tours coming up!
MM: And finally, what's your most Maniac moment?
JC: We're maniacs about having clean socks, and it's pretty much impossible to do laundry on tour, so we end up buying a ton of new socks on the road and coming home with 3 times the amount. Gotta stay clean though.
To hear more from Nightly, be sure to check out their brand new video for No Vacancy here and DEFINITELY catch them on tour!  You don't want to miss this.
| | | |
| --- | --- | --- |
| April 21 | Columbus, OH | The Basement* |
| April 22 | Louisville, KY | Zanzabar* |
| April 23 | Nashville, TN | Third and Lindsley* |
| April 27 | St. Louis, MO | Firebird* |
| May 15 | Indianapolis, IN | Deluxe Old National Centre** |
| May 16 | Flint, MI | The Machine Shop** |
| May 18 | Niagara Falls, NY | Rapids Theater** |
| May 19 | Baltimore, MD | Rams Head Live** |
| May 21 | Dewey Beach, DE | Bottle & Cork** |
| May 23 | Cambridge, MA | Sonia's^ |
| May 25 | New York, NY | Mercury Lounge^ |
| May 26 | Washington DC | DC9^ |
| May 27 | Philadelphia, PA | The Foundry at The Fillmore^ |
| May 29 | Toronto, ON | Velvet Underground^ |
| May 30 | Montreal, QC | L'escogriffe^ |
| June 1 | Detroit, MI | Shelter^ |
| June 2 | Indianapolis, IN | The Hi-Fi^ |
| June 3 | Minneapolis, MN | Triple Rock^ |
| June 5 | Kansas City, MO | Record Bar^ |
| June 6 | Chicago, IL | Schubas Tavern^ |
| June 7 | Cleveland Heights, OH | Grog Shop^ |
| June 10 | Manchester, TN | Bonnaroo |
*opening support by Saint Mesa
** supporting The Struts
^ co-headlining with Urban Cone