Culture
Blogger of the Week: Niki Whittle
By
|
Blogger of the Week: Niki Whittle from Style Studs and Lace
Have you ever wanted to have British BFF with impeccable style (It can't be just me, right?) Well if you have, Niki Whittle is your new best friend. She is a stylist and blogger who has more travel under her (very fashionable) belt then we probably will in a lifetime and the experiences to go with it! She recently relocated to Pittsburgh from India and has already made big impacts on the fashion scene here.
Maniac Magazine: What brought you to Pittsburgh and after living here for almost a year, how do you like it?
 Niki Whittle: My husband and I have always loved to travel, after we were first married, we talked often about moving abroad and combining travel with work but it took us 4 years to actually take the plunge and pack up all our belongings and head overseas. Partly because we got stuck in a day to day routine and before we knew it years had flown by, but mostly because we hadn't found an opportunity that felt right and that really grabbed us. Then a job in India came up and everything changed. We'd been to India before and felt a strong connection to the country, and we figured that if we were going to move abroad then we should move somewhere totally different to home.
We spend two and a half years in Bangalore, India and loved EVERY minute of it. We travelled extensively and I felt so inspired! But after two and a half years, my husband was keen to look at the next step in his organization, and as we weren't quite ready to go home, we looked at the options and decided America would not only offer the right promotion but could be fun! 18 months on, we're still here and we plan on staying put for a while (which, I'll be honest has totally taken us by surprise). The first time we saw the Pittsburgh was when we landed at the airport with our 7 suitcases in tow, we had no idea what the city was like and all we had to go on were online reviews and less than positive comments from Americans we'd met in India. Thankfully it didn't take us long to realize that most of those reviews were unfounded.
We both really like it here! The cost of living is great, the seasons are spectacular (in India we had year round summer weather and in the UK the seasons seem to just blend into one) there are some fantastic local business, the people are friendly and the locals are so proud of the city that it's hard not to get caught up in it! There is something about this city that draws you in, and doesn't let go.
MM: What's in a name? Why Style Studs and Lace?
 NW: My blog started out in life as a Hip Shapes and Bristol Fashion (a play on the words 'Ship Shape and Bristol Fashion', an old nautical term from my home town of Bristol in the UK) but when we moved abroad, I decided I didn't want the blog to have a name that was location specific, so I re-branded and changed the name to Style Studs and Lace which I felt encapsulated my love of pretty, edgy style.
MM: What made you want to start blogging? Where do you draw inspiration from for the blog?
NW: I originally started blogging back in 2008 as a way to promote my styling business. I'd just launched and figured that a blog might be a good way to market my business, but once I started I found myself writing more and more, and got such a buzz (and I still do!) when I hit 'publish' that I knew my blog was becoming more than just another marketing tool. Seven years on and me, my business and my blog have become so closely intertwined that its' hard to imagine one without the other.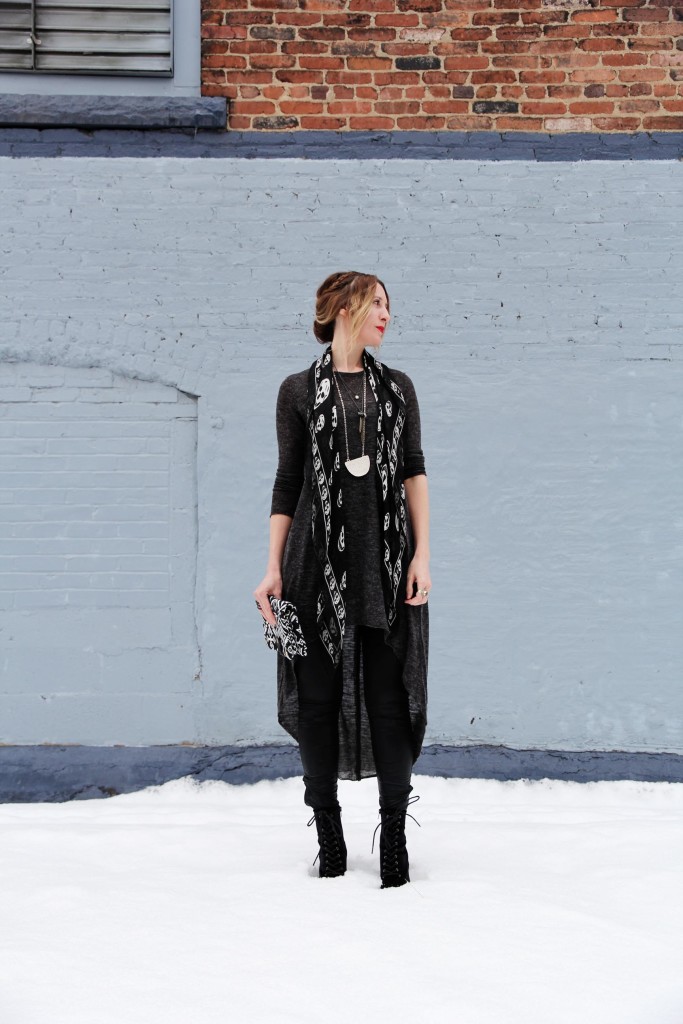 First and foremost I'm a personal stylist, but I'm not just that, I am my business – I don't go to work, get the job done, come home, and switch off. I live and breathe it and I practice what I preach. All the time. This is what inspires my writing.
I blog about what I believe in and stay true to my values. This pushes me to experiment with my own personal style, helps me to be creative with my closet, and drives me to look more closely at what others are doing – how they're styling pieces and how they adapt the trends to suit their own style. It's also helped me find my writing style, to improve my writing skills and has proved to be fantastic way to meet and connect with people (especially here in Pittsburgh!).
All of this has really allowed me to grow and develop.  It's a far cry from the little marketing tool it originally started life out as. It feeds me and it feeds my business, and if it inspires someone else along then way, then I'm truly happy.
 MM: You are a personal stylist, but have said that wasn't something you always wanted to do, so what would you be doing if you weren't styling?
NW: Personal styling isn't a traditional job, so I think what I meant by that was that I didn't know it was what I wanted to do, or that I could do it for that matter. I studied textile design at a British University and worked as a freelance textile designer whilst working full time as a visual merchandiser, but neither of those roles really set me on fire. It was fashion, style and clothes that I was passionate about so when I saw a job advertised for the role of a personal shopper for a major UK department store, I applied. A couple of weeks later I was working as their only full time personal shopper, and I'd found my calling.
It was the perfect fit for me, I was satisfying my passion for clothes and style and felt like I was making a real difference to people's lives. I can't tell you how amazing it feels to see someone visibly grow in confidence as a direct result of something I've done.  2 years later I left to set up my own personal styling business and this year I celebrated 7 years in business.
When we moved to Pittsburgh I was faced with a decision, re-locate and establish my styling business over here, or take the opportunity to try something different, however, I couldn't imagine not being a personal stylist so I'm here and my business is too. Relocating a business is definitely tough, especially to a different country, but things are progressing well and I'm steadily building my client base here and getting involved in the community. In parallel, my other focus at the moment is launching my own collection of scarves…but who says you can only do one thing?!
MM: You've most recently lived in India and the UK before coming to Pittsburgh. What differences have you noticed in fashion styles? How is it different to style a client from, say, the UK than a client from Pittsburgh? How is it similar?
NW: That's a great question! The fashion and clothing in India are worlds away from what you see walking down the streets in the UK and USA, the color and pattern is on another scale and Indian women have an innate ability to mix colors and pattern that's masterful!   Old India is clashing with a new, more westernized India, and while it's causing a lot of problems there are also some great things rising out of it, one of those is the fashion.  I was captivated by the old world charm, traditions and culture, fused with modern day trends, you only need to take a look at what some of these designers are doing to see what I mean.
http://houseofmasaba.com/collection.html
 https://www.facebook.com/AVGcouture
 http://www.perniaspopupshop.com/designers/archana-rao
 https://www.tribebyamrapali.com/manish-arora
 https://www.facebook.com/AartiVijayGuptaCouture
The differences between UK and USA fashion are no way near as obvious, but they are there.  In Pittsburgh, people don't take themselves too seriously and they wear what they like.  There isn't any pressure to look a certain way and I think that lends itself to a much more relaxed, comfortable and real style.  Bristol (my hometown in the UK) also has a relaxed style but it's much more edgy and quirky.
I've also noticed that America focus a lot on American made products and while I think this is great, I can't help thinking that it provide less choice and variety.  In the UK it's not uncommon to see retailers from all over the world, even in the small towns.  Our choices include retailers from Britain, Europe, America, Scandinavia and Australia.  This offers the consumer more choice and I feel it nurtures more diverse innovative and experimental styles. The British have a reputation for being eclectic and quirky and I think this diverse range of retailers has a big role to play in this.
As far as my business goes, much of what I bring fits naturally into the US but I have had to re-learn quite a few things, not least US sizing and what Americans call various items of clothing.  We may all speak English but for example; what Americans call pants, British call trousers.  And a jumper?  That's not a jumpsuit where I'm from, it's a sweater!  I had to invest a lot of time in getting to grips with US retailers, understanding what body shapes they're best suited to and how they fit the figure. I think one of the most important things as a personal stylist is to be able to pull together looks that suit each individual and to not get too influenced by your own tastes and style, so it was important that I put the time and effort in to understanding what's available to me in Pittsburgh.
But other than that, styling a client in the USA is pretty much the same as styling a client in the UK.  At the end of the day, my clients all want a similar thing.  They want to look good and feel great, and they want me to show them how to do it.  I'm really enjoying working with my new US clients, I love their energy and their willingness to try new looks, it's fantastic!
MM: How have your travels influenced or shaped your own personal style?
NW: Travel has definitely shaped my personal style but I wouldn't say it's particularly obvious. In India, I wasn't inspired to wear Indian clothing as such, but my style definitely softened. I leaned more towards softer silhouettes and loose shapes rather than my staple black skinnies and I found I wore more accessories, to the point that they were the focus, and my outfit was just the back drop. Jewelry is one of the few things I collect when I'm traveling and I enjoy integrating it into my personal style.
Another thing I took from India was the sense of pride that people had in their image. Men would often stop in front of a parked motorbike, take a comb out from the top pocket of their crisply ironed shirt and sort their hair. Women working on the construction sites, carrying buckets of cement on their head from one place to the next, would be wrapped in the most beautiful fabrics and have jasmine woven through their hair, it's amazing! It made me think that I should make more of an effort!
I think confidence is one of the biggest ways travel has shaped my personal style. For three years I was removed from western fashions and free to draw on something other than the trends to develop my style and I found this quite liberating!
MM: Who, what (or maybe where for you!) is your biggest fashion influence?
NW: I guess I would have to say travel and music. Music has always been an influence on my style. Stevie Nicks, Courtney Love, Florence Welch and Gwen Stephani are all such strong confident women who have totally nailed their looks. They're not too fashion-led and they've developed their own unique style, I find that so inspiring. I'm also inspired by other bloggers, I love to see how they experiment with shapes and break the rules.
MM: Lately on your blog you've been talking about shopping your closet and wearing old pieces in new ways before going out and splurging on new styles. To me this sounds like a daunting task, do you have any tips on how to do it effectively without getting overwhelmed?
 NW: This is something I do each season and I know it can seem like a daunting prospect, but if you shop your closet at the beginning of each season you'll not only save time and money, you'll be start to build a collection of clothes that offer variety and will further develop your own personal style. My advice is:
Put aside a good two to three hours to make sure you have the time to look at everything in your closet.
Be pragmatic about it. If you're not wearing something, ask yourself why and if it's because it doesn't fit or you don't like it, remove it…and don't beat yourself up about it. Move on.
Be honest, try to uncover a theme in your closet, We're creatures of habit so it's only natural that you'll be harboring a few items that all look very similar, and it's totally natural to be unaware of it until you're forced to look for it. Once you've identified it, try to avoid adding any more variations on the theme and start to introduce some different styles to your collection.
Be open minded. Once you're happy with everything in your closet, start to play around with different outfit combinations. If you think two pieces of clothing might work together but aren't sure, try them on. If they don't well fine but you might just uncover a genius combination!
But if this still feels daunting then call me! I'd love to help you!!
MM: What are your top 3 fall must haves?
 NW: A leather jacket, is a must! I have a couple and am wearing them all the time at the moment. A blanket shawl is another must have, they can be worn over most outfits, look great under a leather coat, and can double up as scarf too. My third must have is pair of pointed booties. I'm probably biased as I have a long love affair with a pointy toe, but honestly a pointy ankle boot is refreshing update from last year.
MM: Where is your favorite place to shop locally? How about abroad?
NW: Locally, I really like Kristi Boutique in Aspinwall, Pavement in Lawrenceville and Highway Robbery in Southside, as well as BCBG, Anthropology, and Madewell. Across the pond, my favorite shops would have to be Whistles, Warehouse, Topshop and Zara. And if I could afford to, I'd dress in Alexander McQueen!
MM: Congratulations on Stylish Pittsburgh Day! (July 28th) What made you want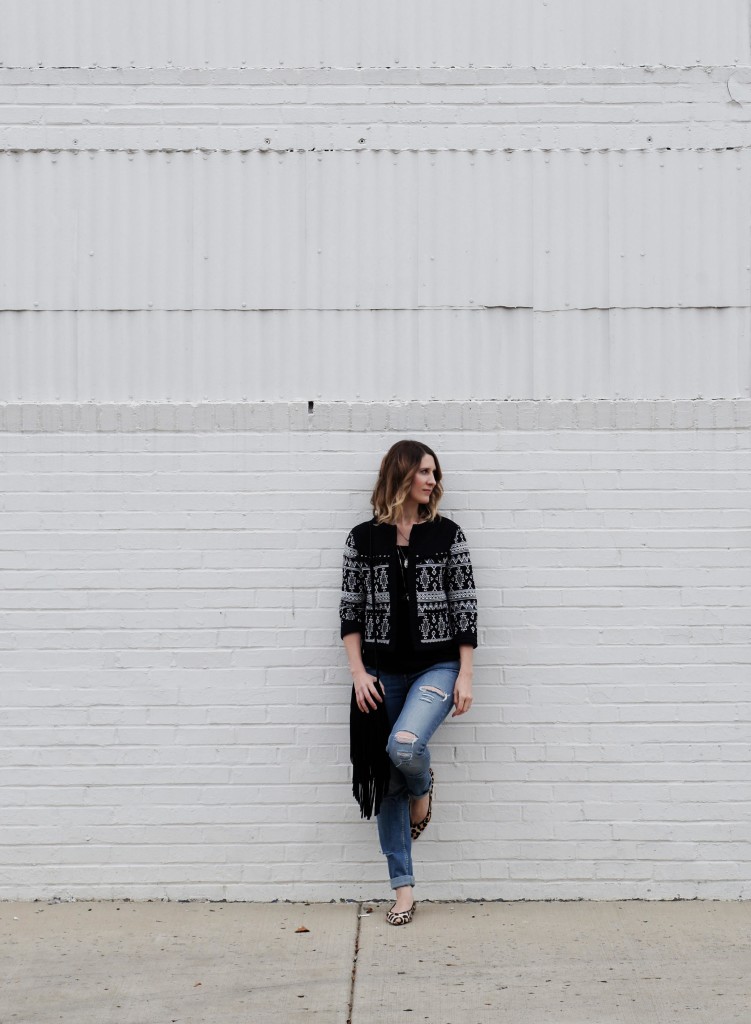 to start the #stylishpittsburgh movement and why is it important to you? Are you shocked by the support you've received?
NW: Thank you! And yes, I've been really taken aback by how much support I've received! I started the #StylishPittsburgh movement back in May to celebrate local style, it grew out of a frustration that there were so many unflattering articles floating around regarding Pittsburgh's style and not nearly enough positive ones to counteract them. I think Pittsburgh has a great and diverse sense of style! We have a fantastic selection of local independent boutiques, some very talented local designers and a hefty number of fashion bloggers too (so many that myself and three other fashion bloggers – Afternoon Espresso, Yes, Wear That and Wear Wag Repeat have started organizing a regular fashion blogger event called Style Social. The next is on Nov 18th!), so I decided to take it upon myself to celebrate this and showcase it on my blog.
Every couple of weeks, I highlight a local fashion boutique or showcase a stylish Pittsburgher and it's been so much fun. I've learnt so much about my new home and what it is about the city that people love so much and I've met such talented, inspiring people.
On 28th July, thanks to my friend and fellow blogger, Tori Mistick, Stylish Pittsburgh received its very own proclamation. It was a pretty surreal moment for me having only arrived in the country 9 months earlier, but it was an amazing experience! So many people joined in on the day to show their support and share their outfits, I couldn't have asked for more! I was blown away by the support we received from everyone. The community spirit in Pittsburgh is unlike anything I've experienced anywhere else.
MM: You recently finished your first collection of scarves! Tell me a little bit more about the collection. When can we expect more?
NW: Soon! Very soon!! I am SO excited about this! One of the great things about working for yourself is the freedom it gives you to evolve and the flexibility it offers you to take your business in other directions. My time in India afforded me the space and inspiration to explore other avenues, and the one that excited me the most was drawing and designing. I found myself re-visiting my textile design roots and it wasn't long before I was dreaming of designing my own collection of scarves. A year on and I'm almost there. I have the samples in my hand and am in the process of setting up an online store, so I hope you'll be able to get your hands on them pretty soon!
MM: What is the best fashion advice you've ever received?
NW: My Mum's approach to her closet has definitely had an influence on me. She has always advised me to buy fewer good quality items that I know I will love for years. She's built up a fantastic selection of pieces over the years that never seem to look dated and she always looks so well put together.   Our styles may be very different but her practical approach has definitely been an inspiration to me.
MM: What is your most MANIAC moment?
NW: My most maniac moment?  I had MANY of those when I lived in India…it was one veeeeeeeeery long maniac moment.  If I had to pick just one, I'd have to say the time when my friend and I decided to wander the teeny tiny streets of Varanasi by foot instead of getting an auto rickshaw.  We had to fight with motorbikes, cows and street dogs for space, I still can't believe we made it out unscathed!  It was a truly amazing experience.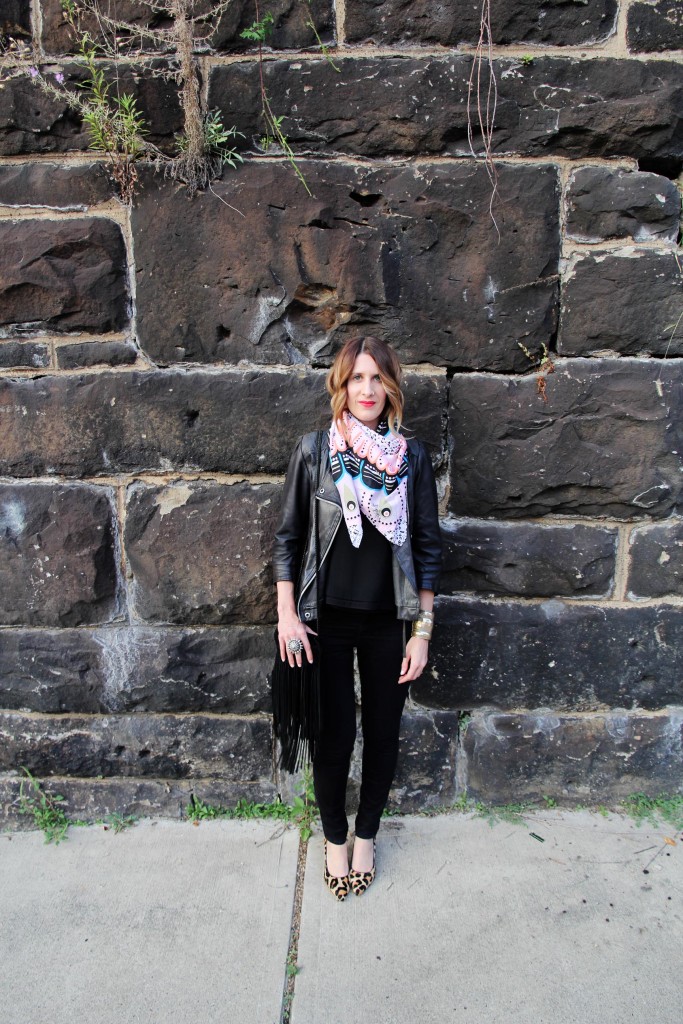 (Niki wearing one of her own scarves!)
Be sure to subscribe to Style Studs and Lace, follow Niki on Twitter and Instagram