Culture
Blogger of the Week: Jessa Gibboney AKA Wavy Alabaster
By
|
Blogger of the Week:  Wavy Alabaster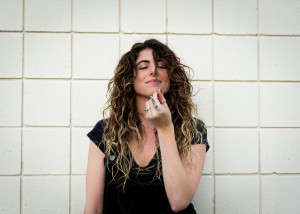 Have you ever met a woman who just seems to have it all together? Who is unique, but in a super cool, collected way? Who is genuinely authentic and just so easy to talk to about practically anything? The chances of you answering yes to all of these questions are pretty slim, but I have proof that such a woman does exist. Jessa Gibboney is that woman and I just met her (she is, in fact, a real person.)
With a little bit of punk-rock, a whole lot of kick-ass and a splash of a hometown girl you have Jessa, creator of Wavy Alabaster. If her hair doesn't catch your eye (and there is a 99.9% chance that it will) you will still probably find yourself wrapped up in a conversation with her, she is just one of those people you are drawn too. Speaking of her hair, during our interview, someone stopped her to ask where she gets her hair done. Immediately, Jessa pulled her hair stylist's business card out of her bag and told the lady "Tell her Jessa sent you!" She gets asked about her hair so often that she actually keeps a collection of her hair stylist's business cards with her at all times. If that right there doesn't tell you how awesome she is then I don't know what will (but I really hope its this interview!)
MM: What's in a name? Why did you choose Wavy Alabaster as your blog title?
JG: On the surface, Wavy Alabaster physically describes me as I embrace the lack of pigment in my skin and the wild wavy nature of my hair. But the name also lends itself to a deeper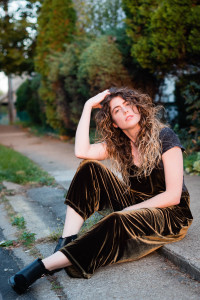 meaning.
"Wavy" was chosen because, in life, we go through ebbs and flows. There will always be ups and downs, but life keeps on keepin' on… one, continuous wave. Saying "Alabaster" always brings a smile to my face because my husband, as far back as I can remember, playfully calls me his "alabaster beauty." It brought a cheekiness and interest to my blog name that made it feel complete.
MM: You did a pretty major 180 with your life going from a professional in sports marketing to a fashion blogger. What was that process like? How did you find the courage to make such a drastic change?
JG: The process was humbling, empowering and scary all at the same time. It was like traveling down a backroad at night with both your headlights out never really knowing when a sharp turn was ahead. Building a successful and financially comfortable career, by my standards, in the sports industry over a seven year period was no easy feat. There were life experiences and memories that I wouldn't trade for the world. The grind, however, confined my spirit and I knew in my heart it was time to close that chapter. There was this creative, fashion side of me that was yearning to be explored. I had to give it a chance. My first blog post, Wave of Change (http://wavyalabaster.com/waveofchange), dives even further into the reasons behind the leap.
This change was drastic and it came as a shock to a lot of people. Shock led to concern. That concern was a silent motivator as I wanted to show folks that I would be okay; my husband and I would figure it out. If there is one thing I have learned in 30 years of life, it is that most things, if not every thing, always takes longer than expected. I would have to process more self-confidence than ever before. A quote was introduced to me by my mother-in-law and it organically became my motto for this journey. "Courage doesn't always roar. Sometimes courage is the little voice at the end of the day that says I'll try again tomorrow." (Mary Anne Radmacher)
My husband, Ben, also has to be given a crazy amount of credit. My courage and confidence is fueled by him. His support never wavers, no matter what crazy stunt or idea is tossed his way. His trust in my decision was the platform from which I was able to make this leap of faith.
MM: What drew you to fashion? What is your earliest fashion memory?
JG: The diversity. I love meeting folks and observing how their style opens a window to their personality. The emotion and meaning behind clothes also drives my love for fashion and style. I have various hand-me-down items or vintage pieces with better life stories than my own.
My earliest fashion memory was my mama in overalls and socks. The socks weren't on her feet, however. She would roll socks and then tie them in her long brown hair as part of her night time routine. The socks were a more comfortable version of hair rollers. In the morning, she would brush out her hair to reveal large, barrel curls.
MM: Who has been the biggest fashion influence in your life?
JG: My parents influence all facets of my life and fashion is no different. They have always embraced and encouraged me no matter what style stage I am rocking. Also, Iris Apfel. Not much to explain there; her fearless style is unmatched.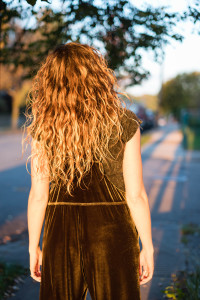 MM: Describe your personal style in one word.
JG: Meaningful.
MM: Why blogging? Have you always had a love for writing or is it something that evolved?
JG: There always existed this love and respect for personal style and the freedom of expression it allows. I wanted to marry this with the written word and blogging became my public avenue. I kept journals throughout various chapters in my life and they are my most treasured possessions. They give me a chance to truly reflect, remind where I have been and help clarify where I am going. Wavy Alabaster is the dawn of my open journal, style blog.
MM: How do you continuously find inspiration for your blog?
JG: Every second can lend itself to an igniting moment. Keeping an open mind throughout my day is crucial. A simple spark of inspiration, sifted out of the background noise, is all I need to run away with an idea for a post.
 MM: You talk a lot about "bucket lists" on your blog, yearly lists you make on your birthday of goals you would like to accomplish in the coming year. How have your goals changed over the years?
JG: My goals have become less work-related and more about personal growth. I have also seen a trend of mixing in fun, quirky objectives along with the meaningful ones. There has to be balance. In my 30th year, for example, the simple act of buy underwire bras is on my list. I am a stylist and understand the importance of correct, proper-fitting undergarments; however, I am the WORST at buying underwire bras. The absolute worst! You can check out my list in its entirety here (http://wavyalabaster.com/breakdownthebucketlist).
MM: You seem to have quite the #girlsquad. How do your friends influence your life and fashion? Do you draw inspiration from them?
JG: I could go on for days about my friends and how they have pushed me to be great. Their influence is weaved throughout my daily life and particularly bubbles to the surface in my blog. From my hometown ladies to my college gals to the ladies that trekked a foreign country with me to work colleagues to the more recent, stylish ladies I have met through blogging and Free People, each one is different. That diversity forces me to constantly evolve and not become complacent in my style as well as my daily life.
MM: Even though you love what you do, you still make "me" time. I saw that you recently went to some tea ceremonies. How important is doing things for yourself to you?
JG: Doing things for you is not only important, it is necessary. You cannot help others or support others fully until you do the same for yourself.
MM: What does a perfect day look like to you?
JG: The day would begin with a cup of coffee with my husband, Ben. Then, as long as there was laughing and dancing, friends and family involved, I would label it a perfect day.
 MM: Any guilty pleasures? (tv shows, music, movies, foods, etc)
JG: Cheese, I will devour cheese by the truck load in any shape or form. A pinch of shredded cheese out of a bag makes for a happy girl.
I enjoy most types of music and have such a fondness for classic rock and blue grass, but I will always be able to jam out to mainstream EDM.
Below Deck. You haven't heard of it. No one I know watches it, but I am obsessed. It is a reality TV show about folks working on a yacht. I could have been a Chief Stew in another life.
MM: Favorite book?
JG: It is tough to label one as there are countless good reads out there. The Five People You Meet in Heaven by Mitch Albom is one of the greats by my definition.
MM: YOUR HAIR. What are you best kept hair secrets?
JG: Less is more. It took some time to learn this lesson, but I am a firm believer now. The more I tamper with my coarse, wavy locks, the more lifeless it becomes. My hair is the lead and the products and tools are supporting roles only intended to refresh and enhance.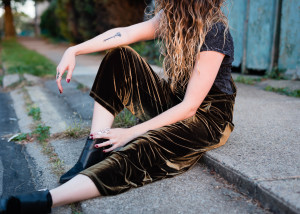 MM: What is the best fashion advice you have ever received?
JG: "There is no one like you, Jessie. Be you always." – my mama
MM: Top 5 staple pieces every woman should have in her closet?
JG: A denim or leather jacket, a white V-neck t-shirt, a pair of boyfriend jeans, a properly fitted hat, Polaroids of your favorite outfits for those days you are not feeling inspired or don't know what to wear; resort to a favorite.
MM: What is your most Maniac moment?
JG: It has to be leaving a city I loved, an established career and financial security for a dream with an unknown ending.
Now that sounds like a woman we want to be friends with!
If you don't already, subscribe to Wavy Alabaster and follow Jessa on Instagram and Twitter.
Photography by Jenn Ott
Velvet overalls are vintage purchased from local vintage collector, Leslie of juju (www.jujupgh.etsy.com)
Shirt Free People
Boots Circus by Sam Edelman