Culture
Blogger of the Week: Bree Fesh of Stark Raving Chic
By
|
Blogger of the Week: Bree Fesh

Bree Fesh of Stark Raving Chic is just a girl who followed her passion, and ended up right where she needed to be. She turned her love of fashion and social media into a lifestyle and is not only using her blog to bring some fashion into Pittsburgh, but she is also using it to discuss important issues (think body image and breast cancer to name a few.) We already knew she was a pretty cool chick before the interview, but after? Now we definitely want to hang out with her (wine-and-dine preferably.)
Maniac Magazine: What's in a name? Why did you choose Stark Raving Chic as your blog title?
Bree Fesh: Before starting my blog I did a good bit of research to see what makes a fashion blog successful and of course at the top of every list was "a fun and catchy name." So after reading this, I began brainstorming, cranking out anything that came to mind, no matter how silly. Let me tell you, I had some god awful choices. After working on this for a day or two and countless name rejections from my mum and my boyfriend, I decided to cool out and have a nice glass of Cabernet to ease my frustration. After my wine was poured and I was sitting the bottle down, I peered at the label of the wine and that's when it hit me: my favorite wine is named "Stark Raving Cab" so why not combine it with a word that describes my style? And that is how "Stark Raving Chic" was born.
MM: How did you get started in blogging? When did you start your blog?
BF: It's actually kind of a funny story. You see I've always loved fashion, however, I never really considered seriously writing about it until late February of this year. I am an avid Tweeter and Instagramer, so obviously during big events, such as NYFW, I tweet, retweet, and favorite up a storm. During spring fashion week this year, I adored the Banana Republic runway, so, naturally, I tweeted at them and retweeted or quote tweeted looks I loved. It turns out that Banana Republic LOVED  the coverage I was giving them via Twitter, so they rewarded me with a $500 shopping spree! That's when I decided why not give blogging a try, and I am so happy I have. Not only did I have the privilege of corresponding with Banana Republic those few months ago but lately I also have had so many (all completed and just currently in my drafts list) collaborations and opportunities to work with larger companies. I'm truly thankful.
MM: How would you describe your blog to a new follower?
BF: I would describe my blog as a personal fashion blog with *loads* of personality.
MM:  What is your earliest fashion memory? 
BF: My earliest fashion memory took place when I was in first grade. From the time I was little, my mum hired her friend, Sherri, to sew pinafore dresses for me to wear to school. At first, I paid no mind to it, I would just go, let Sherri take my measurements, and that would be that. However for my piano recital, I had a creation in mind that I knew only Sherri could do: I wanted a replica of the dress worn by Anastasia on the cover of "The Royal Diaries: Duchess Anastasia". This was the first time I ever took notice of a dress, from the ornate embroidering to the delicate lace detailing, it just left the 6 year old me pining. I needed this dress for my recital. So my mum and I set up a bunch of fittings with Sherri and underwent the making of the dress. Finally, when the dress was complete I was awestruck, it was perfect. I ended up loving the dress so much my mum even let me wear it as my first communion dress the following year. And 'til this day I have it neatly tucked away in a preservation box in my closet.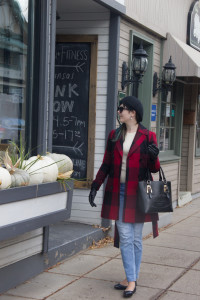 MM: Who are your biggest fashion influences?
BF: My biggest fashion influences are my mum and my grandmother. All throughout my childhood I can remember both of them always being fabulously dressed (my grandmother was like June Cleaver, she'd do house work while dressed in her best heels and a dress), letting me play dress-up with their good clothes, taking me on their weekend shopping trips, and as I got older even letting me raid their closets! Both of them are/were influenced by starlets such as Lauren Bacall, Sofia Loren, Audrey Hepburn, and Vera-Ellen. So obviously I get loads of inspiration from those women as well.

MM: You've blogged about fall being your favorite season to dress for. Why is that?
BF: To me, fall is the golden season for fashion. It's not too hot or too cold, so that opens the door to so many wardrobe choices! I feel that spring and summer limit you because you  are only able able to wear a few basic pieces because if you were to layer you'd probably end up roasting to death (I personally can't even stand to wear jewelry when we get those 90 degree days!) I don't know about you, but in the winter, unless it's a Christmas party or New Year's Eve event, my dresses are retired to my dry cleaner's storage and I live in sweaters and pants. Where as in the fall, you can still wear summer tops with jeans and if it's a little chilly you can just snag a blazer. Or you can add some edge to a dress or some shorts by throwing on some patterned or colored tights without worrying about being too warm, as you would in the summer. Like I stated in a past post, to me fall is all about wardrobe versatility! And what's not to love about that?

MM: You recently wrote a blog for Dose of Vitamin F about body positivity. Why do you think this issue is so important?
BF: To me, body positivity is something I think everyone should be aware of and practice. I say this because I feel that so many teens, girls and boys, struggle with self-image, ultimately lowering their self-esteem. Therefore, if you learn to be body positive and embrace your body, you become at peace with yourself and can start tackling bigger and much better things. I can honestly say I know this from experience. For six years, I struggled with anorexia nervosa and this past August was my two year anniversary of going into recovery. I have to say, if I hadn't learned to love my body  I probably wouldn't be doing this interview with you today. I never would have started a fashion blog because I would be too worried if people would judge me. But now I'm confident in my appearance (not saying I never have a bad body image day every now and then) but I have grown to love myself, imperfections and all. It's a great feeling. That's why I feel that being body positive is so important.
MM: Where do you draw inspiration for your "Wish List Wednesdays?" How often do you end up buying the things on your wish list (be honest!)
BF: Well I can't really say I have much inspiration for my wish-list Wednesdays, they are just simply comprised of things that I would love to have in my closet and/or my life (for instance, I did one on organization a few weeks back!) So really I just sit in my office on my lunch break and online window shop to make these lists. And to be honest, it's amazing that I'm not in credit card debt! I'm a bit of a shopaholic. I've been known to purchase entire wish-lists when I have some extra cash!
MM: We love your mermaid hair! Would you say you are a risk-taker with fashion and beauty or do you like to stick to classic styles?
 BF: Thank you! And honestly about the only thing I take risks with in fashion is my hair and makeup lipstick. I mean my hair has literally been every color of the rainbow at one time or another, and I currently can't decide if my favorite lipstick color is violet or light green! But other than those two things, I tend to keep my wardrobe and makeup pretty classic. For my eyes, I generally pick a neutral hue and slap on some mascara and winged eyeliner. My favorite attire is any of the following with a pair of great fitting jeans: band tees, blouses, flannels, or sweaters. Oh, and sunglasses are a must.
MM: What is your favorite fashion trend of the moment?
 BF: My favorite fashion trend right now would have to be two piece dresses. I just think they are so sophisticated and sexy, without showing too much skin.
MM: Where is your favorite place to shop locally and why?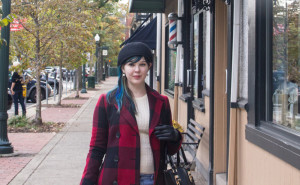 BF: I recently just did an article on this! My favorite place to shop is hands down Terry Jolo Brand in South Side. The reason why is because all of their clothing is handmade and they only make them in quantities of 1, 2, or 3, meaning all of their stuff is basically limited edition and you are guaranteed to have a unique look. They also do custom creations (I'm actually waiting to pick mine up!) I also love the fact that all of their clothes are made in house, I just think that is really cool.
MM: Go-to drink order when going out? (We're guessing wine!)
 BF:You are partly right! *Laughs* When I am out to dinner, yes, my go to drink is Cabernet Sauvignon or a good full bodied Malbec. However, if I am out for just drinks with friends or colleagues, I just get a Grey Goose or Johnnie Walker neat.

MM: Guilty pleasures? (tv shows, music, food, cats, etc..)
BF: I am guilty of watching entirely too much Netflix, drinking copious amounts of coffee (okay, and wine but I figured you already got that), and eating way too many potato chips. I'm also the proud mother of my rescued Maine coon cat, Lola.
MM: What is the best fashion advice you've ever received and who was it from?
BF: "A dress with pockets is the best kind of dress, especially for people like you who lose their phone constantly."
This was the advice from the wisest person I know, thanks for looking out for me mum.
MM: Last one, what is your most Maniac Moment EVER?
BF: Oh geeze! I have so many stories I can tell here, however, I feel as though they would be incriminating for me and those involved. So I'll play it safe and just give these few life tips I've learned from my most Maniac Moments:
Never mix rum and fireworks, this includes sparklers. Bad things will transpire, though they are really hilarious in hindsight.
Never let your lightweight best friend drink tequila at your taco margarita New Year's Eve party, this results in tears and completely unintentional bodily harm to the host (in this case it was me).
If you are easily offended NEVER play Cards Against Humanity or read what's in the parentheses after this sentence. (When playing Cards Against Humanity always go for the white cards that involve kids and/or cancer. They win every time.)
When your friend shows up in the middle of the night with a bottle of Absolute, that means it's the perfect night to make screwdrivers, make fun of exes, enemies and/or people on Grindr. All while shamelessly blasting catchy pop songs. (Yes, this involves drinking most of that said bottle.)
For more on Bree, be sure to follow her blog and follow her on twitter and Instagram