Articles
How To: Update Your Room AND Save Money
By
|
How To: Update Your Room AND Save Money
Moving into a new apartment or dorm is tough, especially if you're transitioning from your childhood home. How can you possibly make it as cozy and nice as that bedroom you've grown up in? You can't—you're not an adult with adult amounts of money to buy real adult furniture (unless you are, then, only keep reading this if you like to save $$$). Is there any way to make your room look nice without dropping a million dollars? My conclusion is yes, yes there is a way.
Bed Frame
If you've not gotten one with a dorm room—the easiest place to find a pretty cute one is craigslist. Craigslist almost always has something you're looking for if you look hard enough—key word almost. Just gotta be careful with these transactions, you never know who you're going to meet from craigslist. Take someone with you. ALSO, big stipulation, you must go check out the item before agreeing to buy. You never know when it'll actually be gross and disgusting and beyond any cleaning possibility. If this happens, just run away to avoid conflict with the craigslist person and start your search over.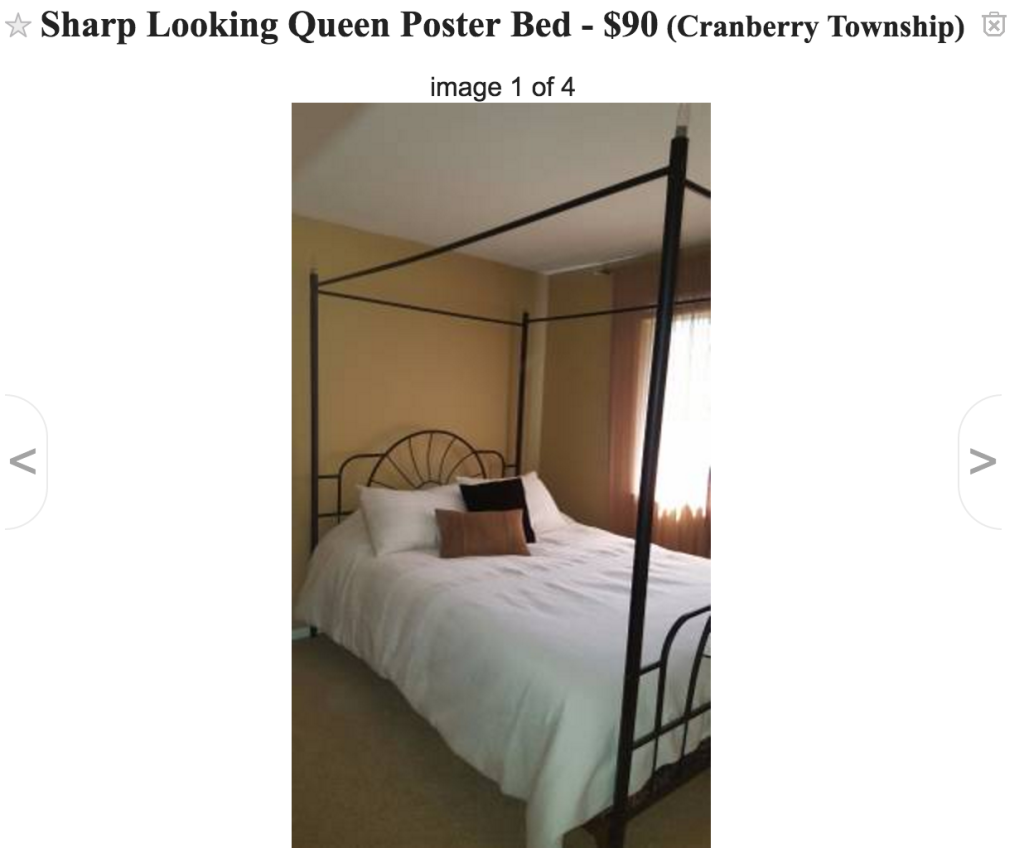 I mean… this bed has the potential for having a canopy and it's $90.
Furniture
Do you have a grandma that is still around? Do you have a mom who changes the decorations in your house every few years? ANOTHER great way to get a bed or furniture is to check in the basements of all of your relatives. They have to give you their things because they are related to you. It's pretty much a rule. I got a quilt that was made by my grandma's mom (and it's actually really cool) and I'm pretty sure I'm not the only person in the world that can have that kind of luck. One thing is, (and this goes for craigslist stuff too) you have to try to imagine their things in your newly decorated room. Sometimes, things can look dingy or plain, but with your new decorations, they'll look completely different. An easy way to turn, say, a dresser or a desk into something new, is to replace all of the knobs or handles. Go to Anthropologie, buy all new hardware, and you can turn your chest of drawers into an Anthro-looking-piece without the Anthro price. That's pretty rock and roll. If you want to get even more creative, you can paint the furniture to even better suit your taste. Just depends how much time you're willing to put into this project.
Rugs
As for rugs, I'm overstock.com's #1 fan. I've purchased multiple amazing rugs from overstock for crazy good prices. They have any kind of rug you can imagine at basically a steal compared to places like Ethan Allen. I don't even know how it's real.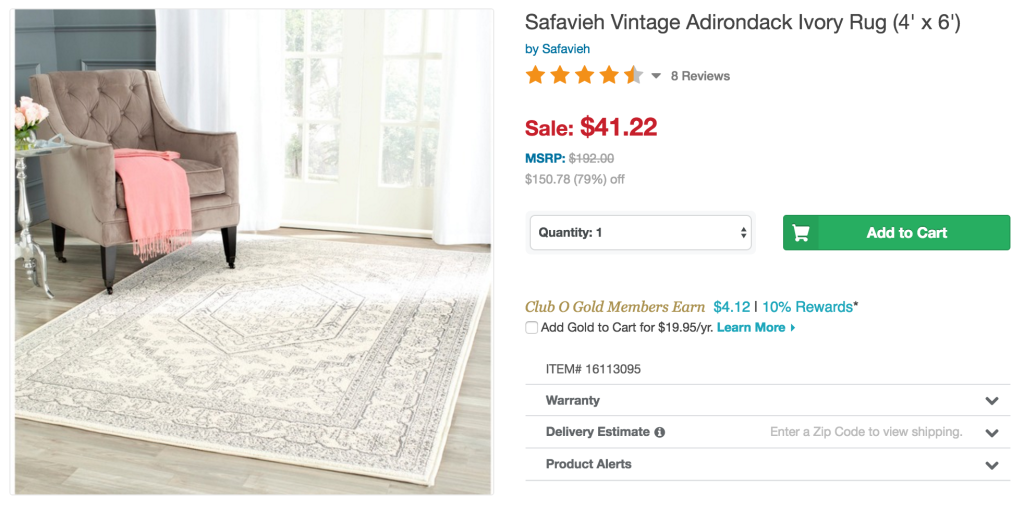 Decorations
For decorations, it's easy to look from places like Urban Outfitters and Z Gallerie and West Elm. The trick is, look on these places for ideas of what you want, then go to Etsy to find what you want and more at way better prices. It's the best trick in the book. If you didn't find bedding yet, you could also definitely find some on Etsy.
If all else fails, try your own hand at some art. People might think it's some expensive modern art that's been passed down through your family, when really, it just looks that way because you're not-so-good at art. Nobody will ever know.
Anyway, that's about all the suggestions for room décor that I have in my brain at the moment. All of these tactics have worked for me, so, unless I'm a wizard, they'll probably work for you too. Good luck decorating!