Blog
Blogger of the Week: Alyssa Simakas of No Filter New York
By
|
BLOGGER OF THE WEEK: ALYSSA SIMAKAS OF NO FILTER NEW YORK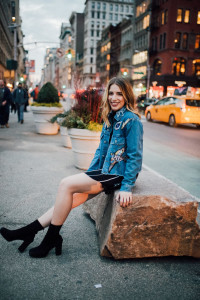 You might be able to take the girl out of Pittsburgh, but you can't take Pittsburgh out of the girl! Alyssa Simakas was born and raised in Pittsburgh, and moved up to New York City about two years ago.  From style to travel to food, Alyssa has "no filter" when it comes to her blog .  With only about one year of blogging under her belt, Alyssa has a lot to look forward to in her future!

Maniac Magazine: What made you want to leave Pittsburgh and head up to New York City?
Alyssa Simakas: Since the first time I visited in NYC in the 7th grade, I knew I wanted to live in the big apple. I was born and raised in Pittsburgh so taking on NYC was the next best thing plus it's the fashion capital. I studied Fashion Merchandising in college and got an amazing opportunity to work for a brand I loved right out of college so it was an easy decision to move two weeks after college. I've been up here for almost 2 years now!
MM: How did you choose the name No Filter New York?
AS: Starting my blog took me months. One of the hardest things for me was coming up with a name. I did so much research on how to brainstorm and think outside the box. One of the techniques was to write down all your characteristics that describe you which included blunt, outgoing, personable, social, etc. Then the exercise said to dig deeper and go beyond those words. I couldn't. I went to spin class that afternoon and the name hit me but I left completely forgetting the name. It bugged me all day until I went to hillsong (my therapy aka church) that night. The Pastor goes on to tell stories that relate to modern day life, to help others, give back, and in big letters on the screen NO FILTER came up. I was freaking out and turned to my friend saying THAT IS IT, THAT'S IT! That's what my name is. And the rest is history!
MM: How long have you been blogging and what made you want to start?
AS: I started less than a year ago. I will say it took me about 6 months to really get into the groove of it and fully understand the "influencer world."
I always wanted to start a blog in college and have been following some bloggers from their beginning. I thought it was so cool and totally something I would be interested in but wanted to finish college first and find a true purpose to write. I have always had my friends and family asking for fashion advice so when I moved to NYC right after college I knew it was in the cards.
MM: Do you have any favorite bloggers?
AS: I have been following Danielle of @weworewhat for a long time now and also love @mimosasmanhattan, @howdoyouwearthat, @thriftsandthreads, and @meg_legs. Those are some bloggers I turn to for inspiration but there are many other bloggers/influencers I look up to.
MM: What is your main inspiration for your posts? Do you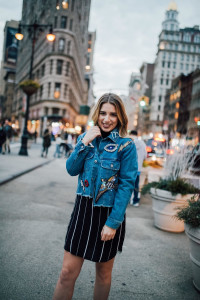 ever have periods of time when you don't have an idea to write about?
AS: The main reason I write blog posts is because I am able to reach a wider group of people from my site and social platforms. Since moving away from my family and friends, I still recieve a lot of texts and snapchats asking about what to buy, how to wear something, if it's cute, etc. (and I love that people are asking because I love helping!) So therefore I created my blog for a place for people to go to find inspiration. I like to give tips and advice on fashion and the reason I am writing about the specific topic. I believe in quality over quantity in this influencer world so I like to have a meaning behind each post/ instagram picture.
Of course I have "writer" blocks but I do not call myself a writer by any means. I write how I talk and I have learned that my followers like that. They say they can totally hear my saying that, so it's more personal to my followers in that sense.
MM: What is your favorite accessory or piece of clothing?
AS: Ahhh that's so hard to say because for me it depends on the season. I could wear a leather jacket for all seasons or my favorite high rise skinny jeans so I would probably say those two. For accessories, I never leave the house without my two necklaces my boyfriend got me and my diamond earrings my parents got me… without them I feel naked!
MM: Is there anything specific you miss about living in Pittsburgh?
AS: SO MUCH! Everyone is so nice and actually opens the door for you, haha! But of course my family and friends. Also, being surrounded by Pittsburgh fans. Whenever I see someone wearing something Pittsburgh related in NYC I always tell them I'm from Pittsburgh loud and proud! Every time I'm home now I get Frank's buffalo chicken pizza, Primanti's, and Nordstrom Cafe (because there is still no Nordstrom in NYC!)
MM: Finally, what is your most "Maniac" moment?
AS: Not sure where to begin… haha! I'm sure my friends and family could come up with a list for you but I will keep it somewhat PG. I think I turn into a maniac when entering the streets of Southside with my friends when I am in town. So when you see a missing stiletto on East Carson Street you know who to return it too!