Blog
Blogger of the Week: Christina Rath of The Brite Stuff
By
|
Blogger of the Week: Christina Rath of The Brite Stuff

"The Brite Stuff is a lifestyle blog focused on the next great ideas as seen by Christina Rath. A Pittsburgh native and graduate of USC, Christina has worked in entertainment journalism in Los Angeles for 8 years and is currently pursuing her MBA at the UCLA Anderson School of Management. The Brite Stuff focuses on entertainment, hospitality, travel,
and anything that catches Christina's eye."
Maniac Magazine: What made you want to start blogging? Were you inspired by any bloggers or any specific thing in your life?
Christina Rath: After my first year of business school, I decided it was time to start writing again.  I had been working on the editorial staff full time for Life & Style Magazine, In Touch Weekly, and Closer Weekly prior to school, and I missed being out in the LA scene and covering events.  I am interesting in pursuing a future career in branding, so I thought what better way to learn than to create a brand myself.
MM: Where did the name "The Brite Stuff" come from?
CR: Getting the name down was definitely one of the biggest hurdles to starting a blog, but I knew I wanted to choose something that didn't include my name.  In my family, we have always had a joke about something being "not too brite".  What is funny is that when we got our newest Border Collie from California a few years ago, she came with the name Brite misspelled like that.  The name just came to me, and I went with it.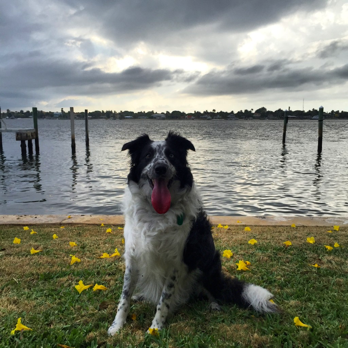 MM: Has writing always been something you were interested in/what did you study in college?
CR: Writing has always been easy for me, and I love learning languages– I speak Spanish and Mandarin.  At USC, I majored in International Relations & Global Business, but I spent a lot of time working for the USC TV station and writing for the news website, Neon Tommy.
MM: Speaking as someone who has just gotten into blogging, I've had troubles with consistent posting and coming up with post ideas, is this something you struggled with when you first began? Is it something you still struggle with?
CR: Coming up with ideas is the least of my worries, for me it's more about having time to write about everything I want to!  I have lists and lists of posts that are ready to go, but I haven't put the finishing touches on.  I also have a great network of friends and publicists who are constantly inviting me to events and pitching me interesting story ideas.
MM: Your blog really covers a lot of area with all the different sections—Brite Bites, Brite Body, Brite Booze, Brite Ideas, Brite Lights, Brite Sights, Brite Stuff—is there any topic you enjoy writing about the most?
CR: I included all of these categories because my interests are so broad, and since most of my previous work had been in the celebrity entertainment world I wanted to branch out past that.  As a journalist, I still love having the chance to interview people that I admire, so sharing my conversations with athletes like Venus Williams, Billie Jean King, and Patrick McEnroe is always rewarding.
MM: What do you find to be most rewarding about having a blog—having an outlet for yourself as well as a portfolio of your work, or response that you get from readers?
CR: It is amazing to look back on what I have done in just the past few years and have more to show then just some photos on Instagram.  The most rewarding part though is knowing that I have a voice and can let people know about important causes like the group of women who are working to get Breast Cancer Awareness License Plates on the roads in California. I do hope people look to me for advice about cool things to do and places to visit because, believe me, I want all these good restaurants and businesses to do well and stick around!
MM: As you are from Pittsburgh, do you find a special kind of joy in writing about Pittsburgh related things? Do you think you'd ever return to live in Pittsburgh, or is Los Angeles where you feel you need to be?
CR: I will bleed black and gold until the day I die, and I LOVE writing about anything Pittsburgh related and championing all the strides the city is making.  I was dying to interview Antonio Brown when he was here for DWTS, but unfortunately I had class on the nights it taped.  I would definitely consider living in Pittsburgh again, but we'll just have to see what's in the cards.