Articles
The "Glossier" Way of Beauty
By
|

You may have seen the pastel pink beauty products and the pink pouches popping up on your Instagram feed lately. The pink and white theme and products lure many of to figure out where we can find these items for ourselves. The beauty company, Glossier, has taken over our feeds and added a new approach to beauty. With the slogan of "Skin first, makeup second, smile always" this brand has become a leader in the beauty world. Launched in 2014 by the beauty editors of the popular website Into the Gloss, Glossier focuses on the user not covering their natural beauty, but enhancing it and letting it shine through.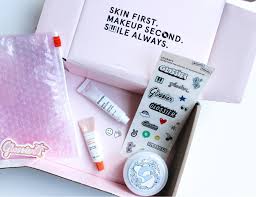 There are many things that set Glossier apart from other beauty companies; the first being the message behind their products. Inspired by the readers, Glossier believes in celebrating real women, and curating items that are personal. Much of their skincare leaves your skin feeling and looking dewy which has become quite popular on the runways. The company also gets most of its inspiration from its' users; many times posts on Into the Gloss will ask users for input on products so that the company knows they are serving their community with the what they want to use. This relationship between customers and makers is unlike any other in the beauty community.
The company has created a multitude of products in just two years and continues to grow; their products range from a moisturizer to masks to concealers that accommodate to different skin tones.  One of the many perks of this brand includes the set of stickers that come with their products. You can use these adorable stickers to decorate and personalize your products or anything you want (Currently my phone case is rocking many of the stickers).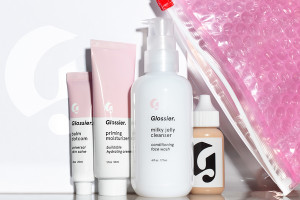 Glossier Phase 1 
One of their featured items include, Glossier Phase I and Glossier Phase II (one is skincare, the other makeup) that allows you to try many products of their at once.  A must try product from these sets includes the Milky Jelly Cleanser. The pH-balanced, creamy gel cleanser is gentle, but it can remove most makeup (except waterproof mascara) with simply rubbing it into the skin. Made with similar gentle cleaning agents found in contact solutions, this product can remove you eye makeup and you can actually open your eyes while cleansing (believe me, it works!). Another products which has become one of Glossier's most known products includes the Balm Dotcom. As the name suggests, this universal salve can be used in many areas including lips and leaves the skin feeling moisturized for hours. The product even comes in a variety of flavors now including coconut, rose, mint, and cherry.
As for the makeup side of things, the Boy Brow is the all in one brow pomade that not only fills in your brows but also shapes them; this product comes in three shades, blond, brown and black. The last product to test out for yourselves is the sheer matte lipstick, Generation G. This lip product manages to moisturize the lips while still leaving a matte, lived-in was color to the lips. The four colors flatter almost ever skin tone (my personal favorite is the Jam, a berry-purple color).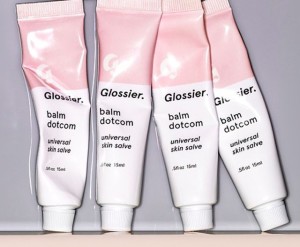 Ranging from skincare to makeup, Glossier has many stand out products that will become staples in your daily routine. You can find more of Glossier's products at https://www.glossier.com/