Articles
Get It Right with Summer Whites
By
|
I don't know about you, but I know that my Winter wardrobe and my spring wardrobe are bipolar opposites. They include different colors, different styles, and definitely different textures (from a heavy wool sweater to a light, breezy cotton skirt). But when it comes to subtly transitioning my spring clothes to summer, there's not much of a stark difference. One thing that I have definitely noticed in the past few summers, is that white is the color to have and wear in those hot, humid months. From a practical perspective, white material clothing are very light and airy, and will help you not feel as sweaty and warm as darker clothes. And from a fashion perspective, white goes with everything and has the ability to brighten up your look while keeping it classy. Zara, my new favorite go-to store (somehow I just discovered how affordable everything is!), has it's very own section on their website called Summer Whites, which I think is brilliant. All the summer white's you could ever dream about right at your fingertips, what more could you ask for? I will definitely be incorporating more summer whites into my June, July and August outfits and hopefully you will too! I've included some of my favorites from Zara's website to help get you started, you're just a few clicks away from looking like you just vacationed at the Hamptons!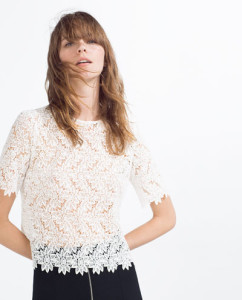 Zara Lace Top, $49.90
Zara A-Line Skirt, $35.90
Zara Mid-Length Skirt, $49.90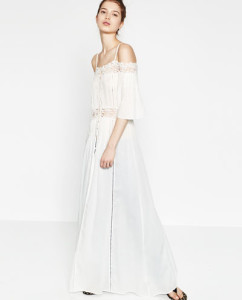 Zara Off The Shoulder Robe Dress, $99.90
Zara Lace Dress, $49.90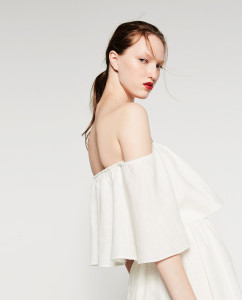 Zara Frilly Linen Top, $49.90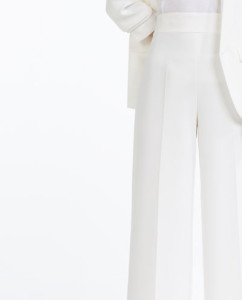 Zara High Waist Trousers, $49.90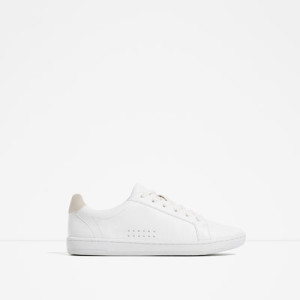 Zara Plimsolls With Laces, $39.90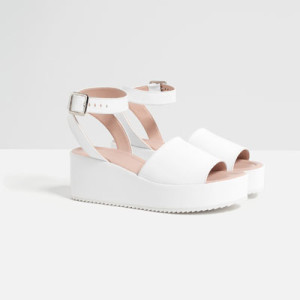 Zara Wedges With Ankle Strap, $49.90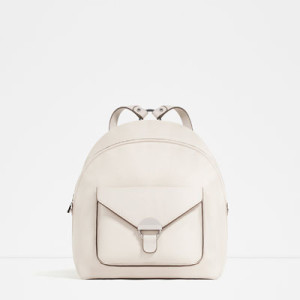 Zara Pocket Detail Backpack, $49.90
If you'd like to check out the rest of Zara's Summer Whites collection, click here!